CB-50 Data Buoy
The CB-50 data buoy is an ultra-portable real-time system for short-term or seasonal monitoring of dredging projects, industrial spills, natural disasters, and other emergency response situations.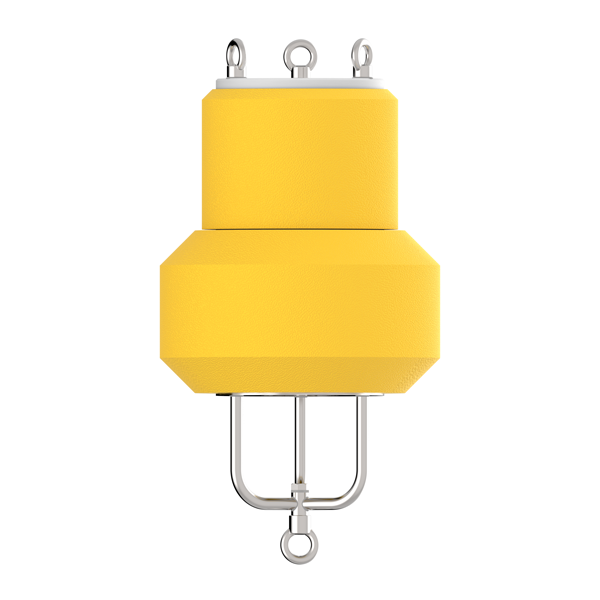 Compact
With an overall 18-inch diameter by 37.5-inch height, the CB-50 can be deployed quickly and easily from a small boat. Fully configured systems typically weigh around 50 lbs.
Tower
A removable topside foam tower protects the electronics, supports solar marine lights, and offers a convenient lifting point via (3) 5/8" eyenuts.
Center Hole
The 5.5" ID center hole is designed to securely house X2-SDL data loggers. Empty canisters are also available for user-supplied electronics.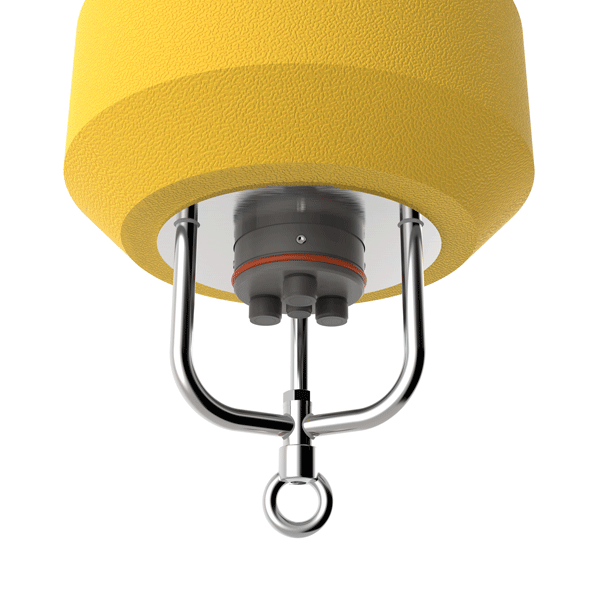 Sensor Connections
The X2-SDL is configured with three sensor ports for connection to industry standard communication protocols including SDI-12, RS-485 and RS-232.
Instrument Cage
An optional instrument cage provides a secure mounting location for water quality sensors, multi-parameter sondes, depth sonar and more.
Solar Beacon
The optional solar marine light has a one to three nautical mile range and securely mounts to the buoy top plate for maximum visibility.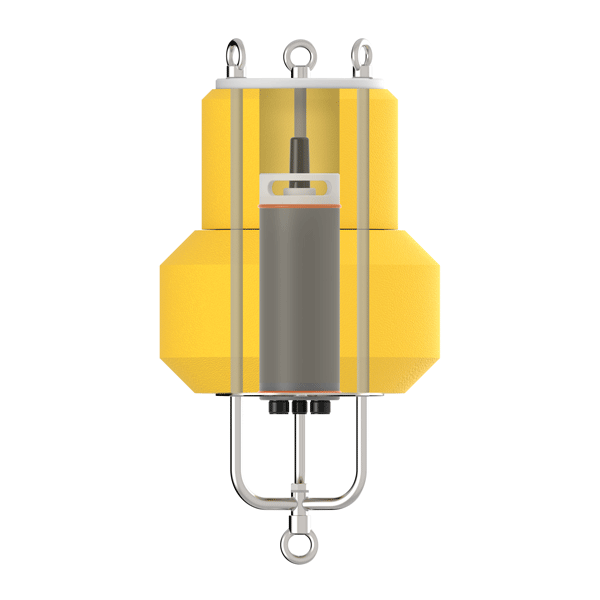 Data Logging
The CB-50 data buoy is designed to accommodate the X2-SDL submersible data logging system, which includes integrated power supply and optional wireless telemetry.
Wireless Communications
The X2-SDL data logger is available with radio-to-shore, cellular and Iridium satellite communications. An integrated antenna mounts securely beneath the tower.
Built to Last
Constructed of cross-linked polyethylene foam with a heavy polymer skin and an indestructible stainless steel frame, the CB-50 is designed for years of service.
Tech Specs
Hull Outer Diameter: 20.0" (50.8cm)
Hull Height: 12.0" (30.48cm)
Center Hole Inner Diameter: 5.5" (13.97cm)
Tower Height: 10.0" (25.4cm)
Weight: 35 lb (16kg)
Net Buoyancy: 50 lb (23kg)
Hull Material: Cross-linked polyethylene foam with polyurea coating & stainless steel deck
Hardware Material: 316 stainless steel
Mooring Attachments: 1x 3/4" eyenut
Q&A
Why is the CB-50 buoy best suited for short-term applications?
The CB-50 is light enough to ship in a box rather than on a pallet, which significantly reduces freight costs. It also deploys easily, as no large boat or crew is necessary. Once deployed, relocating the system is as easy as lifting the anchor, moving to the appropriate location, and dropping the anchor.
Instead of using solar charging, the CB-50 buoy supports the X2-SDL Submersible Data Logger that is powered by sixteen user-replaceable D-cell alkaline batteries. When outfitted with wireless telemetry, the data logger transmits battery voltage as a diagnostic parameter to take the guesswork out of battery replacement frequcency (typically necessary every several months). The integrated X2-SDL submersible data logger is compatible with most water sensors on the market, making it a very flexible platform for short-term, portable, and even seasonal projects.
What important considerations are necessary for ballast weight?
An instrument cage is an optional addition to the CB-50 buoy. No extra weight is needed if the system includes any instrument cage model (CAGE, CAGE-EXO, etc.). If the system does not include an instrument cage, at least 20-25 pounds of extra weight should be added to the buoy frame. NexSens offers an optional 25 lb. ballast weight (PN# BAL25) that can be integrated between the buoy frame and mooring eye.
Can I integrate my own electronics on this platform?
While the CB-50 is designed for use with the X2-SDL Submersible Data Logger, the buoy has a 5.5" diameter hole in the center of the hull for user-integrated waterproof hardware. Upon request, NexSens can offer a size-compatible empty waterproof canister for integrating third-party electronics. For more information on custom electronics integration options, contact us at info@nexsens.com.
The Chicago Park District is one of the largest municipal park managers in the nation with 8,100 acres of green space spread across 580 different parks. It also manages many indoor facilities, historical landmarks and beaches. At eight of its most popular beaches, the District has used cellular data buoys, for four years, in an effort to more quickly predict E. Coli levels that could necessitate beach closures. Chicago Park […]
Read More

→
Lake Erie is described by many as the "walleye capital of the world," but dwindling populations of the fish pose a concern for Great Lakes fishermen. The region's multi-billion-dollar commercial and recreational fishing industry relies heavily on walleye, and the last major walleye hatch in Lake Erie occurred in 2003. Hatch sizes since then have been, at best, below average. A six-year period of substandard spawning is unprecedented; worse yet, […]
Read More

→
The Tom Ridge Environmental Center is located at the entrance to Presque Isle State Park in Erie, Penn. TREC is open year-round, offering visitors insight to what they can expect at Presque Isle State Park and the surrounding Great Lakes Region. TREC also serves as a center for research, contributing to conservation efforts, promoting environmental awareness, and helping to preserve the unparalleled beauty of Presque Isle. The Regional Science Consortium […]
Read More

→