river monitoring system

rail mount data logger

stream gauge
X2 Environmental Data Logger
An all new data logger offering the latest in real-time monitoring technology with wireless communication, a large plug-and-play sensor library, and ultra-low power consumption.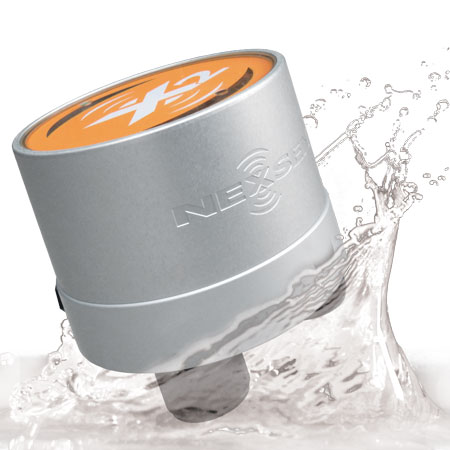 Watertight Housing
The X2 is sealed in an aluminum housing with a polycarbonate top plate. Magnetically activated keys allow for input without jeopardizing the units waterproof seal. The unit is designed to work in extreme conditions, including underwater.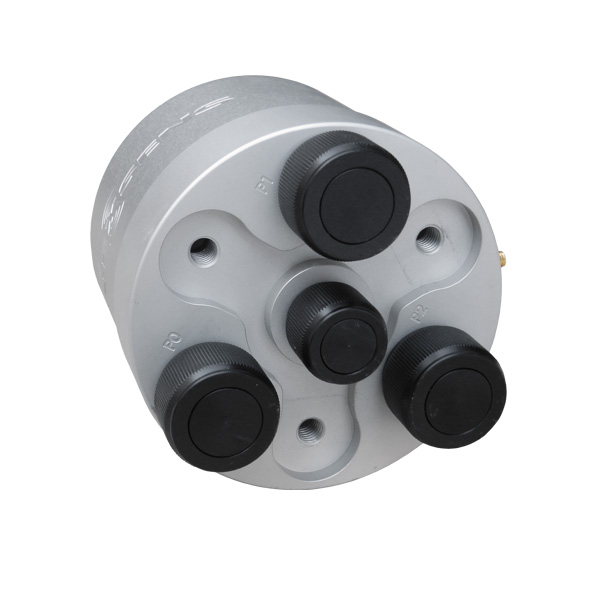 Underwater Connectors
All connections are made with a simple waterproof thread-in connector. This removes the complications and errors associated with connecting individual wires.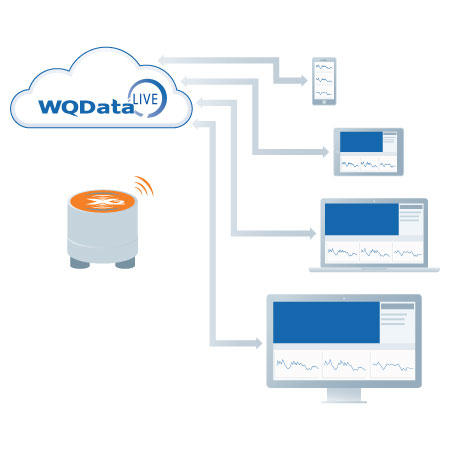 Device-to-Web
When communicating within a Wi-Fi network or connecting via remote telemetry, measurement data streams directly to the datacenter.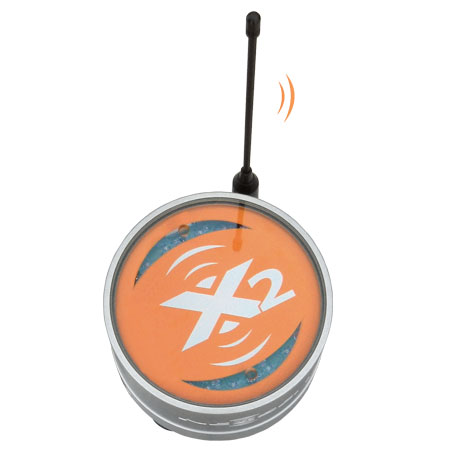 Wireless Communication
Wi-Fi provides short range and local connectivity. Remote options include radio, cellular, and satellite communications.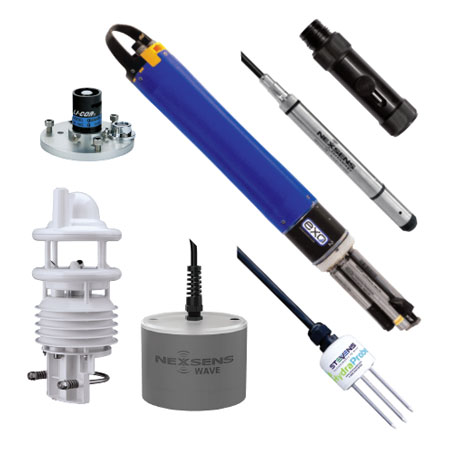 Measurement Versatility
SensorBUS technology incorporates industry standard SDI-12, RS-485 and RS-232 interfaces in a single watertight cable. Smart sensors are available for most environmental measurements.
Easy Install
A specially designed mounting bracket holds the X2 to a 2" NPT pole for easy connection. The optional solar power pack also mounts to the pole and provides ample power for most applications.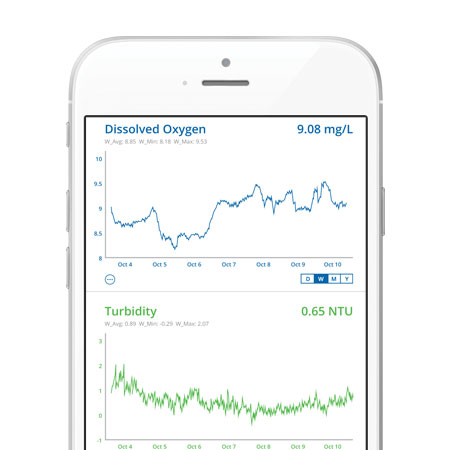 Smartphone Interface
A smartphone, tablet, or laptop connects by Wi-Fi to access sensor data and view or change settings. No application-specific hardware or software is required. Works within an existing Wi-Fi network or as a direct link from the X2 to the device.
Tech Specs
X2 Data Logger
Mount: (3) 3/8-16 bolt holes on bottom
Material: Anodized aluminum
Weight: 3.5 lbs.
Dimensions: 4.9" Diameter, 4.77" Height
Power Requirements: 5-24 VDC +/-10% (Reverse polarity protected)
Current Draw (Typical @ 12VDC): Low power sleep: 350uA; Logger Active: 35mA; Wi-Fi Transmitting: 43mA; Cellular Transmitting: 300mA
Peak Current: Power supply must be able to sustain a 500mA 1-second peak current (@ 12V)
Operating Temperature: -20C to 70°C
Rating: IP67 (Standalone); IP65 (With telemetry)
Wi-Fi Communications: 802.11b/g/n (Direct to X2 or Connect X2 to an existing network)
Wi-Fi Antenna: Internal to device
Wi-Fi Range: 250 ft. maximum1
User Interface: RS-485 direct to PC software, Wi-Fi-Enabled embedded web, WQDatalive Web Datacenter, Magnet trigger for Wi-Fi enable, Status LEDs
Data Logging: 256MB microSD card (expandable up to 32GB)
Data Processing: Parameter level polynomial equation adjustment; Basic & Burst Averaging (min, max, standard deviation, and raw data available)
Real Time Clock (RTC): <30sec/month drift2; Auto-sync weekly3; Internal backup battery
Log Interval: User configurable from 1 minute (10 minute default)4; Unique interval per sensor
Transmission Trigger: Time-based, parameter threshold; Selective parameter upload option
Sensor Interfaces: SDI-12, RS-232 (3 Channels), RS485
Sensor Power: (3) 12V regulated switch channels with 1.5A capacity5,6
Built-in Sensors: Temperature (-40 to 85C, 0.1C resolution, ±0.3C accuracy); Humidity (0% to 100%, 0.1% resolution, ±4% accuracy from 5 to 95% RH & -20 to 70C); Battery voltage
Sensor Ports: (3) 8-Pin for Sensor Interface (RS-232, RS-485, SDI-12, 5V, 12V, GND)
Power Port: (1) 6-Pin for Power and Communication (Primary/Secondary/Backup Input, RS-485 Host, GND)
Telemetry Options
Cellular: 2G: GSM 850, 900, 1800, 1900 MHz; 3G: UMTS/HSPA+ 850, 900, 1700, 1900, 2100 MHz; 4G: LTE Bands B2(1900), B4(1700), B5(850), B12(700ac), B13(700c)
Radio: 900MHz Mesh Network (902-928 MHz); 2.4GHz Mesh Network (2.4-2.483 GHz)
Iridium: Short Burst Data (SBD) 1616 MHz to 1626.5 MHz
Bridge: Radio to Cellular
Antenna Port: SMA (Cellular and Iridium) and RP-SMA (Radio)
Notes
1Range varies based on many factors including obstructions, other wireless signals in the area, elevation change, and more. Actual distances may vary by location.
2Assumes 25ºC operating temperature
3Requires the X2 to be connected to the internet
4Minimum log interval dependent on sensor limitations and processing time
5Cumulative concurrent current limit of all three channels is 2A
6Logger power supply must be able to support current requirements of sensors 
Q&A
What sensors are compatible with the X2 data logger?
The X2 data logger is directly compatible with sensors that have a native SDI-12, RS-485 or RS-232 output. The data logger can also support analog sensors using an analog-to-digital adapter (PN# mV-RS485) or tipping bucket rain gauges using a pulse-to-digital adapter (PN# RAIN-RS485). There are three tiers of sensor compatibility with the X2 data logger:
Tier 1 Sensors have auto-detect, which connects sensors automatically without programing -- no prior setup required.
Tier 2 Sensors must be configured with manufacturer-specific software before connecting to logger. Prior to data logger connection, customers can specify preferred types of parameter outputs.
Tier 3 Sensors can be added through the creation of a user-defined script. The script is written in Lua and utilizes NexSens-created functions to simplify programming. As long as the sensor communicates using SDI-12, RS-485, or RS-232 and can be powered from a 12V supply, it should be compatible with the X2 data logger.
See the complete list of supported sensors and associated tiers HERE.
How does bridge telemetry work?
Bridge telemetry unifies two types of wireless communication methods into a single X2 data logger. Most commonly, it can be used establish a network of radio data loggers that link to a single radio-to-cellular repeater. That way, one cellular data plan is used to transmit data from the entire network, resulting in lower recurring data costs.
Does the X2 need an active cellular data account?
NexSens integrates a carrier-specific 4G modem into the X2 cellular data loggers for either Verizon or AT&T in North America. For all systems outside the North America, a 2G/3G cellular modem is compatible with most international networks. Each active account will require a SIM card to be installed inside the X2 data logger.
Inspired by a passion for the outdoors and the local terrain that Katharine Ordway had throughout her life, the Katharine Ordway Natural History Study Area (Ordway) at Minnesota's Macalester College is a study in diversity. To preserve the conservation legacy that serves as Ordway's foundation, its mission includes four pillars: education, research, sustainability, and civic engagement. The environmental monitoring that supports that mission is widely varied—and it takes special planning […]
Read More

→
The Nottawaseppi Huron Band of Potawatomi (NHBP) is facing the future with a firm grasp on tradition and a mastery of new technology to handle rapid growth and changes. Recognized as a tribe by the US federal government in 1995, the NHBP employs thousands in western and central Michigan. Since its inception, restoring its land which now spans over 1,000 acres and fostering environmental stewardship for the good of the […]
Read More

→
Wetlands the world over are important for a lot of reasons. For one, they are predicted to help buffer the effects of rising sea levels predicted alongside other effects of climate change globally. But on a more local scale, wetlands are important because they act as large living filters that increase water quality while at the same time providing habitat for large numbers of waterfowl and amphibian species. This is […]
Read More

→