 Lake monitoring buoy

Dredge monitoring
CB-150 Data Buoy
The CB-150 data buoy is designed for smaller water bodies, portable or short-term deployments, and applications requiring compact or low-power sensors.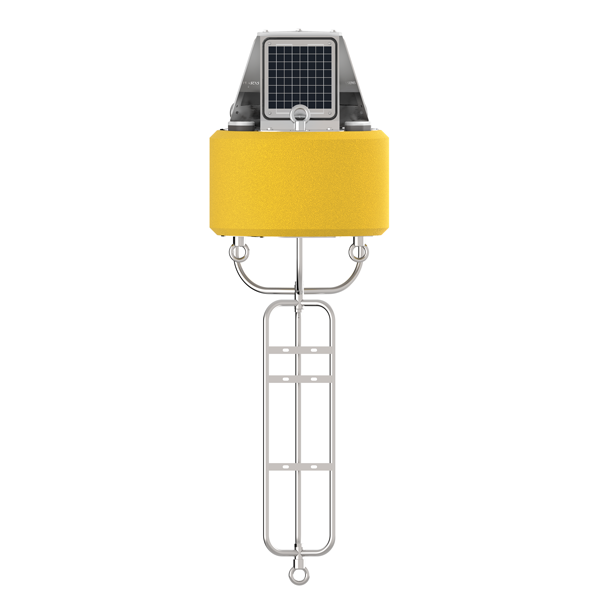 Compact
With an overall 24-inch diameter by 63-inch height, the CB-150 can be deployed quickly and easily from a small boat. Fully configured systems typically weigh less than 100 lbs.
Self-Powered
Three integrated 8-watt solar panels are angled and evenly spaced around the buoy to capture sunlight from any direction and provide adequate battery charging.
Data Well
A 10-inch diameter by 12-inch tall data well provides a watertight housing for batteries, data loggers, sensors, and other hardware.
Connections
The data well lid provides pass-through connections for sensors, power, venting, and more. When integrated with the optional NexSens X2-CB data logger, the system is truly plug-and-play.
Top-to-Bottom Ports
Three 2-inch pass-through ports allow for sensors to be mounted underwater while securely routing the cable. Instrument deployment pipes and custom sensor mounts attach to 2-inch NPT bottom threads. Solar Beacon
The optional solar marine light has a one to three nautical mile range and securely mounts to the buoy top plate for maximum visibility.
Data Logging
The X2-CB data logger replaces the standard pass-through data well lid for turnkey systems. Alternatively, 3rd party data loggers can be integrated by the user inside the data well. Wireless Communications
Communication options using the X2-CB data logger include Wi-Fi, radio-to-shore, cellular, and Iridium satellite.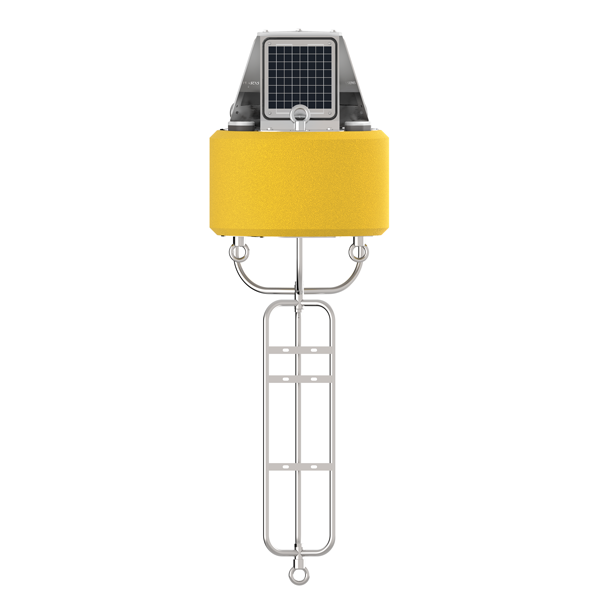 Built to Last
Constructed of cross-linked polyethylene foam with a heavy polymer skin and an indestructible stainless steel frame, the CB-150 is designed for years of service.
Tech Specs
Hull Dimensions: 24" (60.96cm) outside diameter; 14" (35.56cm) tall
Tower Dimensions: 13" (33.02cm) tall, triangular
Data Well Dimensions: 10.3" (26.16cm) inside diameter; 13.5" (34.29cm) tall
Weight: 95 lbs. (43.09 kg)
Buoyancy: 150 lbs. (68.04 kg)
Hull Material: Cross-linked polyethylene foam with polyurea coating & stainless steel deck
Hardware Material: 316 stainless steel
Mooring Attachments: 1 or 2 point, 3/4" eyenut
Solar Power: (3) 10-watt 12 VDC solar panels
Q&A
Does the CB-150 include a data logger or do I need to supply my own?
The CB-150 buoy platform is available with the optional X2-CB data logger. NexSens can provide a turnkey CB-150 system complete with an X2-CB wireless data logger, WQData LIVE web datacenter, met/water sensors, and mooring hardware.
Alternatively, the CB-150 can be supplied as a floating 12 VDC power source for customer integrations. Each data buoy comes standard with a passthrough data well lid that accommodates cable runs into the watertight data well. The data well is a 10" diameter and will fit most data loggers and modems on the market.
The CB-150 data buoy is flexible for any buoy project, from turnkey to DIY and anything in between.
Can the CB-150 data buoy be shipped internationally?
Yes, it can be shipped internationally via UPS, FedEx, DHL, or customer-arranged freight carriers. The CB-150 is the largest size buoy that can be shipped in a cardboard box rather than on a pallet. It is possible to ship integrated buoy systems in separate boxes to keep shipping rates lower as long as each individual box does not exceed 150 pounds; however it is preferred to ship these turnkey systems on an export-approved pallet so that everything is assembled prior to shipment.
How many sensors can I fit on a CB-150 data buoy?
When purchased with the standard passthrough data well lid, six sensor ports are supplied for cable integration. When supplied with the X2-CB data logger, there are five integrated sensor ports. These can be expanded through 2-way and 4-way sensor splitters. In this case, the maximum number of sensors depends on the output of the sensors in use. The X2-CB data logger can accommodate up to three RS-232 sensors, up to ten SDI-12 sensors, and virtually an unlimited number of RS-485 Modbus RTU sensors.
For more than 100 years, the Stannard Rock Lighthouse has kept a watchful guard over Lake Superior. But now, a new weather buoy is joining the watch in a remote part of Lake Superior, providing much-needed weather data to local mariners, the National Weather Service (NWS), and researchers. Scientists from the Superior Watershed Partnership (SWP), Lentic Environmental Services (LES), and the University of Colorado-Boulder deployed the buoy on the lake […]
Read More

→
Similar to how shipping vessels are getting larger and larger these days, cruise ships have too. Newly designed cruise vessels are longer, wider and packed with more amenities to give guests the best trips possible. But there are costs to larger ships moving in and out of the world's ports. In Bermuda, an island nation whose economy runs on tourism, its ports have felt the impacts of the shift. Government […]
Read More

→
Not far from Oslo, Norway, a massive effort is underway to expand a public beachfront. The work is taking place along an area of Oslofjord called Kadettangen, a small peninsula that juts out into the bay. Once the work is finished, public officials expect that the new beach area, along with other enhancements planned for the peninsula like bike paths and volleyball courts, will help attract visitors from near and […]
Read More

→