ocean monitoring buoy

bay and harbor buoy
CB-1250 Data Buoy
The CB-1250 offers increased flotation and solar charging for heavy or power-hungry sensors while still maintaining a relatively small footprint.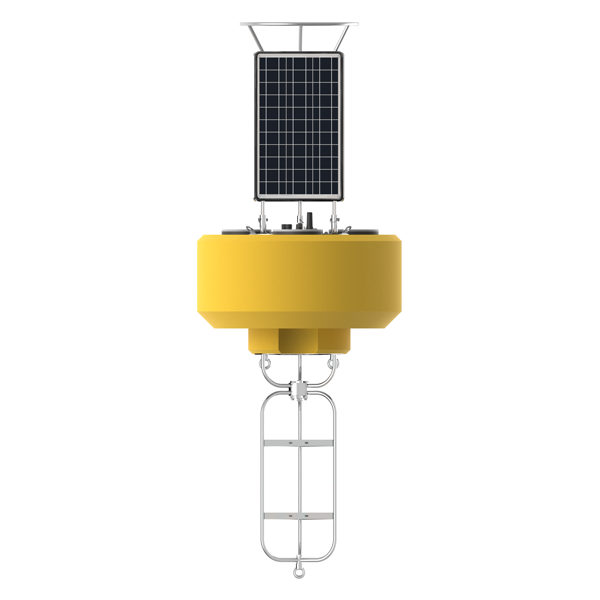 Powerful
The platform integrates three 71-watt solar panels on the tower with space for up to four 28 A-Hr batteries in the instrument well.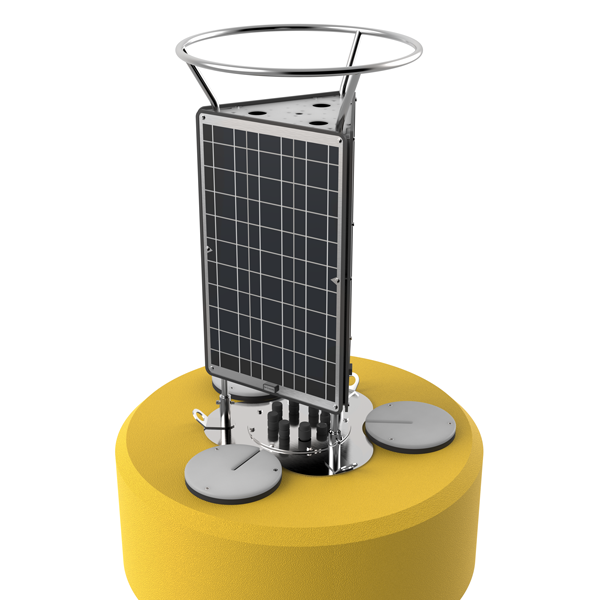 Tower
The stainless steel tower includes a top mounting plate for solar marine lights and radar reflectors. Mounts are also available for weather stations, video cameras and other topside instruments.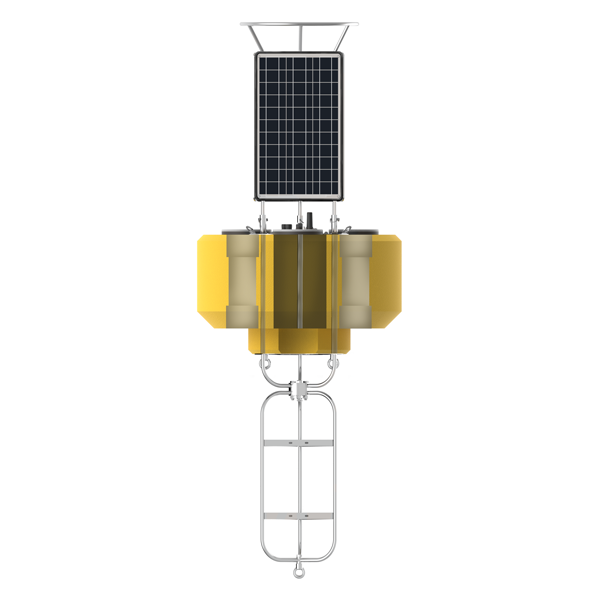 Data Well
A 10-inch diameter by 27 -inch tall data well provides a watertight housing for batteries, data loggers, sensors, and other hardware.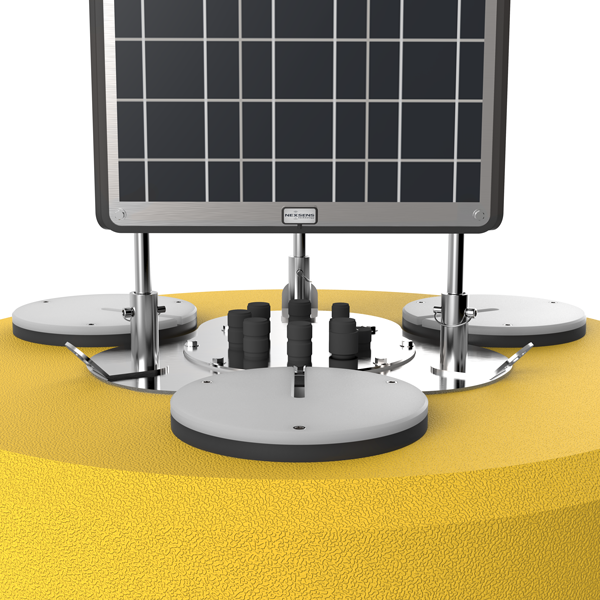 Connections
The data well lid provides pass-through connections for sensors, power, venting, and more. When integrated with the optional NexSens X2-CB data logger, the system is truly plug-and-play.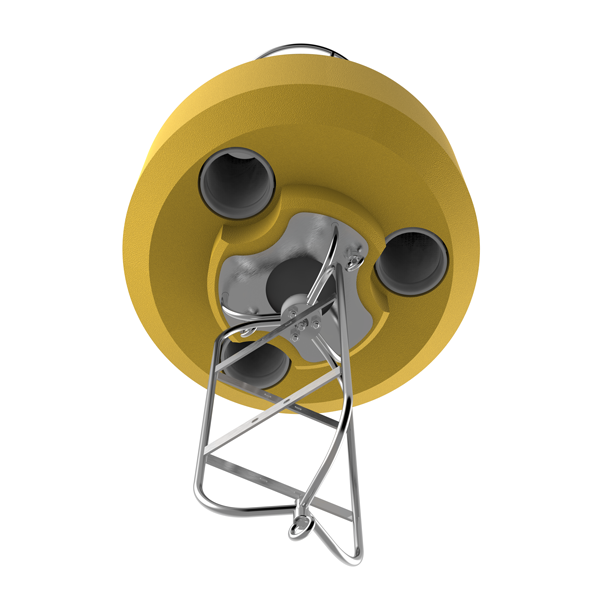 Top-to-Bottom Ports
Three 8-inch pass-through ports allow for sensors to be mounted underwater while securely routing the cable. Instrument deployment pipes and custom sensor mounts attach to 8-inch NPT bottom threads.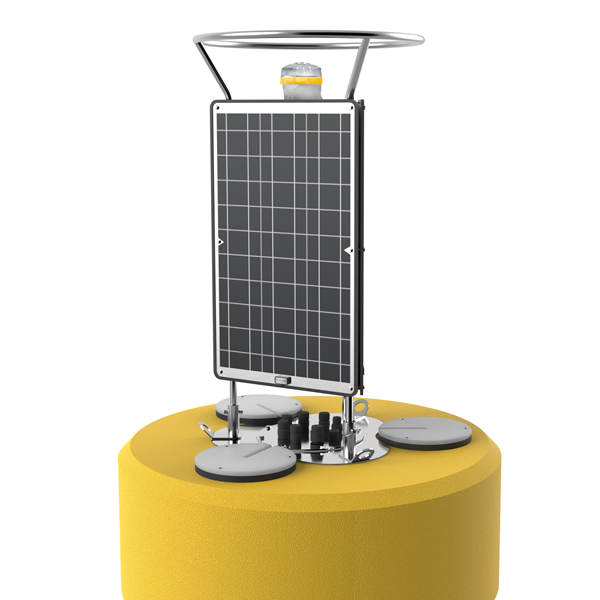 Solar Beacon
The optional solar marine light has a one to four nautical mile range and securely mounts to the buoy top plate for maximum visibility.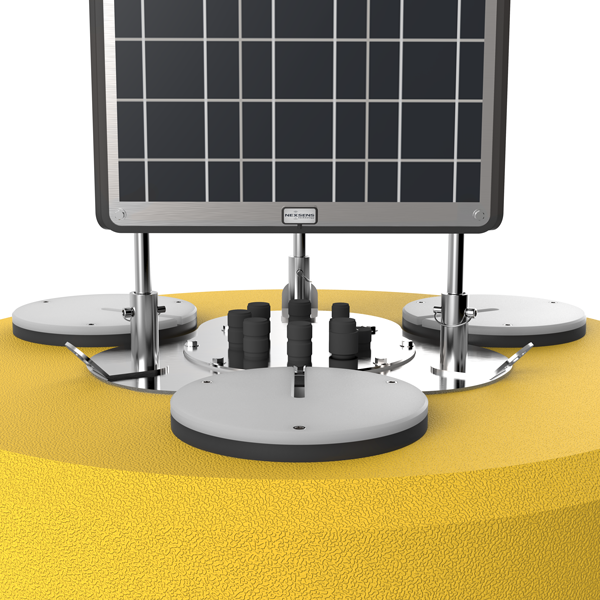 Data Logging
The X2-CB data logger replaces the standard pass-through data well lid for turnkey systems. Alternatively, 3rd party data loggers can be integrated by the user inside the data well.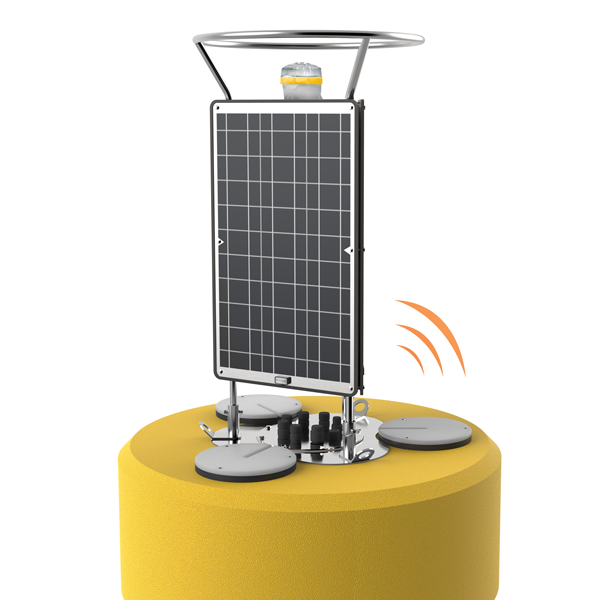 Wireless Communications
Communication options using the X2-CB data logger include Wi-Fi, radio-to-shore, cellular, and Iridium satellite.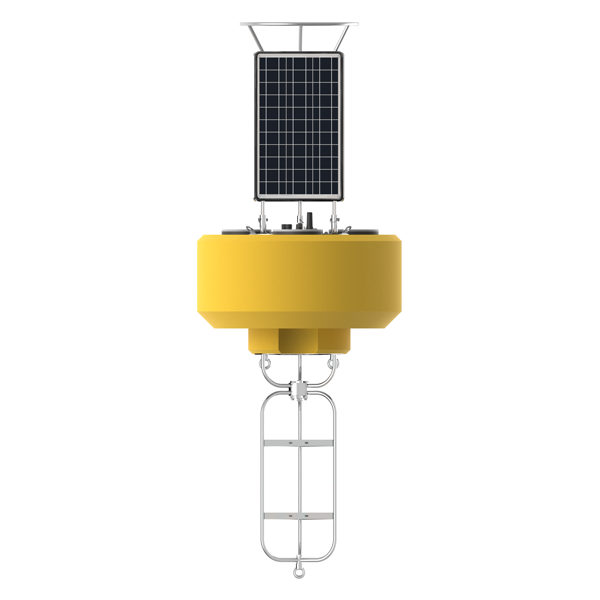 Built to Last
Constructed of cross-linked polyethylene foam with a heavy polymer skin and an indestructible stainless steel frame, the CB-1250 is designed for years of service.
Tech Specs
Hull Outer Diameter: 48.0" (121.9cm)
Hull Height: 28.0" (71.1cm)
Data Well Inner Diameter: 10.3" (26.2cm)
Data Well Height: 27.5" (69.9cm)
Pass-Through Hole Diameter: 8.0" (20.3cm)
Tower Height: 46.0" (116.8cm)
Solar Panels: 3x 71-watts
Weight: 300 lb (136kg)
Net Buoyancy: 1250 lb (567kg)
Hull Material: Cross-linked polyethylene foam with polyurea coating & stainless steel deck
Hardware Material: 316 stainless steel
Mooring Attachments: 3x 3/4" eyenuts
Q&A
What parameters can be measured with CB-1250 data buoys?
NexSens data buoys are designed to simplify the connection of a wide variety of measurement sensors for weather, water quality, water current, waves and solar radiation. When combined with NexSens data loggers, these buoy-based sensors display measurement results online that are accessible to project staff and collaborators.

Weather station parameters include air temperature, relative humidity, barometric pressure, wind speed, wind direction and more. Some advanced weather stations also incorporate GPS, tilt, accelerometer & compass sensors. Terrestrial and Underwater PAR sensors measure photosynthetic active radiation.
Water quality sondes measure temperature, conductivity, depth, dissolved oxygen, pH, ORP, total algae (phycocyanin and chlorophyll), turbidity, and fluorescent dissolved organic matter (fDOM). The sondes also output several calculated parameters like salinity, specific conductance, total dissolved solids (TDS) and total suspended solids (TSS).
Water current sensors used with data buoys are typically multi-beam acoustic doppler based and and measure currents, turbulence, wave height and wave direction. Wave data (height, period, direction) can also be measured using inertial-based sensors mounted on the buoy hull.
How are weather sensors mounted to the CB-1250?
Nexsens offers custom mounts for most industry met sensors including Airmar, Lufft, Vaisala, Gill and YOUNG. Sensor extensions are available based on the height of the sensor in relation to the water's surface. It is necessary to integrate a compass with any buoy-based met sensor to correct for wind direction due to buoy movement.
How do I calculate a power budget for the data buoy?
NexSens has a power budget algorithm to input variables like telemetry methods, measurement frequency, transmission frequency, instruments connected, months deployed, and location for any factory integrated system. With those variables, it is quickly determined whether a given buoy platform will have sufficient solar charging and battery reserve for autonomous deployment.
The NOAA Chesapeake Bay Office runs an unusual set of buoys. NOAA's Chesapeake buoys originated as part of the John Smith Water Trail—a kind of aquatic Appalachian Trail for boaters. Although the buoys are no longer used as interpretive trail markers, they are now part of a larger observing system of 10 full-time stations. Challenge: Weighed down In the past, the team used the AXYS WatchKeeper buoy at these stations—but […]
Read More

→
In 1985, Muskegon Lake was designated an Area of Concern by the U.S. EPA because of water quality and habitat problems associated with pollution discharged into its waters. The water body, which sits between the eastern shore of Lake Michigan and the Muskegon River, has been the site of remediation work ever since. In line with work to bring the lake back from its status as an Area of Concern, […]
Read More

→
Presque Isle State Park gets more visitors annually than most national parks, and many of those visitors come for the area's beaches and fishing. Before they get to the sandy, lagoon-spotted area, many check conditions online thanks to a buoy launched by the Regional Science Consortium. Locals from Erie, Pennsylvania who frequent Lake Erie's waters off Presque Isle use the buoy's data as well, which reveal changes to wave height […]
Read More

→