X2-CBMC Buoy-Mounted Data Logger
The X2-CBMC is an offshore-ready wireless data logger housed inside a waterproof enclosure with wet-mate connectors for integration with CB-Series data buoys.
Smartphone Interface
Connect to the WQData LIVE datacenter via an internet-connected smartphone, tablet or computer to access sensor data and to view or change settings. No application-specific hardware or software needed.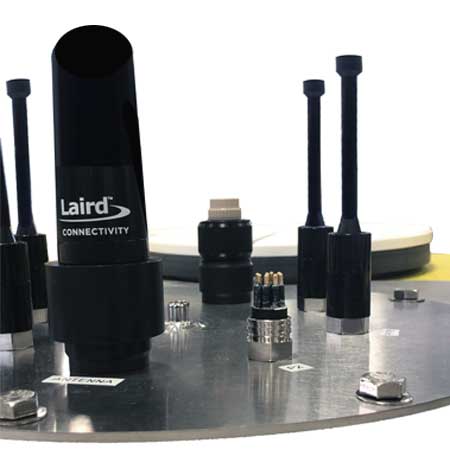 Wet-Mateable Connectors
All connections are made with MCIL/MCBH connectors. This allows for a wet-mate and waterproof connection of environmental sensors.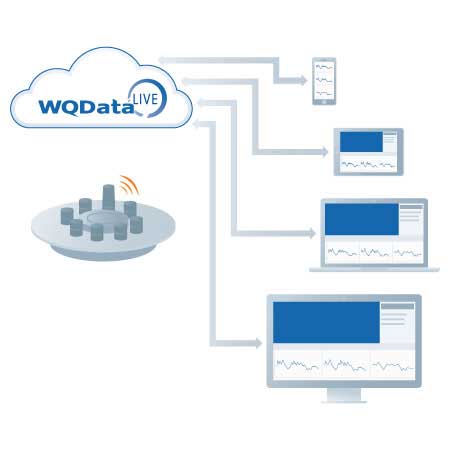 Device-to-Web
When connecting via remote telemetry (cellular or Iridium satellite) measurement data streams directly to the WQData LIVE datacenter.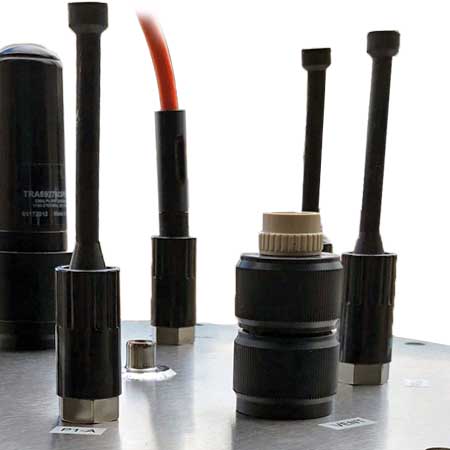 Pressure Relief Valve
The X2-CBMC includes an integrated 10 PSI pressure relief valve to relieve pressure from the outgassing of sealed lead acid (SLA) batteries during deployment.
Measurement Versatility
Five universal sensor ports are compatible with most environmental sensor protocols including SDI-12, RS-232 and RS-485. Sensor splitters are available when more data logger ports are needed.
Buoy Mount Housing
The X2-CBMC is sealed in a watertight enclosure on a CB-Series data well plate. With (5) MCBH-8-MP sensor ports, a pressure relief valve, antenna port and solar panel connector/power port, the X2-CBMC logger is ready for offshore buoy deployments.
Tech Specs
Mount: CB-Series buoy data well plate
Material: 316 stainless steel plate with PVC body
Weight: 10.5 lbs.
Dimensions: 13.5" Diameter, 4.4" Height (6" with cell antenna; 8.125" with Iridium antenna)
Power Requirements: 5-16 VDC +/-5% (Reverse polarity protected)
Current Draw (Typical @ 12VDC): Low power sleep: 350uA; Active: 45mA; Cellular transmitting: 300mA; Iridium satellite transmitting: 170mA
Peak Current: Power supply must be able to sustain a 500mA 1-second peak current (@ 12V)
Operating Temperature: -20C to 70°C
Rating: IP67
User Interface: RS-485 direct to CONNECT Software, WQData LIVE Web Datacenter, buzzer indicator
Data Logging: 256MB microSD card (expandable up to 4GB)
Data Processing: Parameter level polynomial equation adjustment; Basic & Burst Averaging (min, max, standard deviation, and raw data available)
Real Time Clock (RTC): <30sec/month drift1; Auto-sync weekly2; Internal backup battery
Log Interval: User configurable from 1 minute (10 minute default)3; Independent interval per sensor
Transmission Trigger: Time-based; Selective parameter upload option
Sensor Interfaces: SDI-12, RS-232 (3 Channels), RS485
Sensor Power: (3) independent switches from input supply4,5
Built-in Sensors: Temperature (-40C to 85C, 0.1C resolution, ±0.3C accuracy); Humidity (0% to 100%, 0.1% resolution, ±4% accuracy from 5 to 95% RH & -20 to 70C); Battery voltage; System & sensor current
Sensor Ports: (5) MCBH-8-MP for Sensor Interface (RS-232, RS-485, SDI-12, Switched Power, GND)6
Power Port: (1) MCBH-6-FS for Power and Communication (12V Solar In, Power Switch, RS-485 Host, GND)
Telemetry Options: 4G LTE cellular, CAT-M1 cellular, Iridium satellite
Antenna Port: Type N female
Notes
1Assumes 25ºC operating temperature
2Requires the X2 to be connected to the internet
3Minimum log interval dependent on sensor limitations and processing time
4Cumulative concurrent current limit of all three channels is 2A
5Logger power supply must be able to support current requirements of sensors
6P0A & P0B share a single RS-232 and power channel. P1A & P1B share a single RS-232 and power channel.
Q&A
What is the difference between the X2-CBMC and the X2-CB?
The X2-CBMC data logger is designed for offshore marine applications and difficult freshwater environments, while the X2-CB data logger is meant for lakes and other inland bodies of water. The X2-CBMC uses MCBH/MCIL wet-mate sensor/power connectors and a pressure relief valve for battery outgassing compared with UW plug/receptacle connectors and a passive battery vent on the X2-CB.
Can I have different measurement intervals for the sensors?
The X2-CBMC (and all X2 data loggers) allows each sensor to have its own measurement interval if desired. Alternatively all sensors can measure at the same interval.
How can I connect my existing sensor to an X2-CBMC data logger?
Customers can send in sensor cables to be terminated with an 8-pin female wet mate connector (PN# MCIL-8-FS-X). Alternatively, NexSens can provide pigtail cables terminating in bare wires for the customer to splice with their existing cables (PN# MCIL-8-FS-1).
The NOAA Chesapeake Bay Office runs an unusual set of buoys. NOAA's Chesapeake buoys originated as part of the John Smith Water Trail—a kind of aquatic Appalachian Trail for boaters. Although the buoys are no longer used as interpretive trail markers, they are now part of a larger observing system of 10 full-time stations. Challenge: Weighed down In the past, the team used the AXYS WatchKeeper buoy at these stations—but […]
Read More

→
Recent studies into global climate change have identified an increase in Arctic warming rates. These are linked to increased trends toward more sea ice loss that are leading many to anticipate the Arctic will become a more popular shipping route. Coinciding with this expected expansion in use, agencies in the U.S., including the National Oceanic and Atmospheric Administration, are preparing for more operations in the Arctic. For NOAA, that means […]
Read More

→
The Great Lakes region is a dynamic ecosystem that supports millions of people, plants and animals. Key to maintaining its vitality is making sure the waterways that sit at its base remain clean and healthy. To do that, scientists and water managers need steady, reliable data. They often get this information from buoy networks. There are many different Great Lakes buoy networks out there, which are largely supported by government […]
Read More

→