X2-CB Buoy-Mounted Data Logger
The X2-CB includes all the features of the flagship X2 data logger in a lid-mounted package designed for integration on CB-Series data buoys.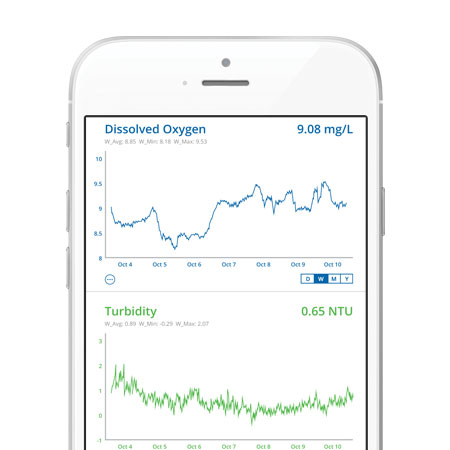 Smartphone Interface
A smartphone, tablet, or laptop connects by Wi-Fi to access sensor data and view or change settings. No application-specific hardware or software is required. Works within an existing Wi-Fi network or as a direct link from the X2-CB to the device.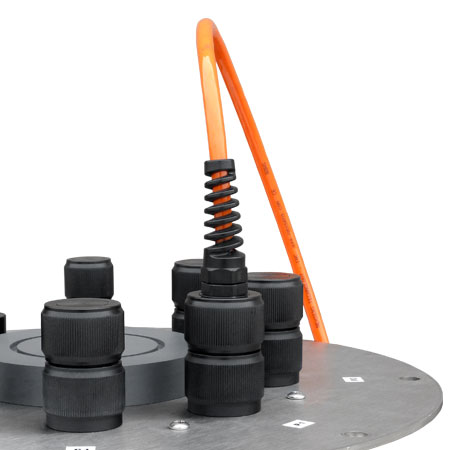 Underwater Connectors
All connections are made with a simple waterproof thread-in connector. This removes the complications and errors associated with connecting individual wires.
Device-to-Web
When communicating within a Wi-Fi network or connecting via remote telemetry, measurement data streams directly to the WQData LIVE web datacenter.
Wireless Communication
Wi-Fi provides short range and local connectivity. Remote options include radio, cellular, and satellite communications.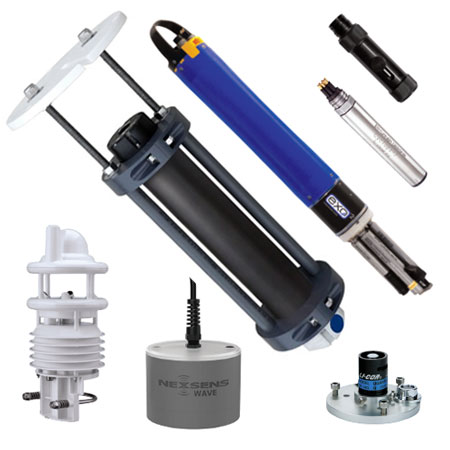 Measurement Versatility
SensorBUS technology incorporates industry standard SDI-12, RS-485 and RS232 interfaces in a single watertight cable. Smart sensors are available for most environmental measurements.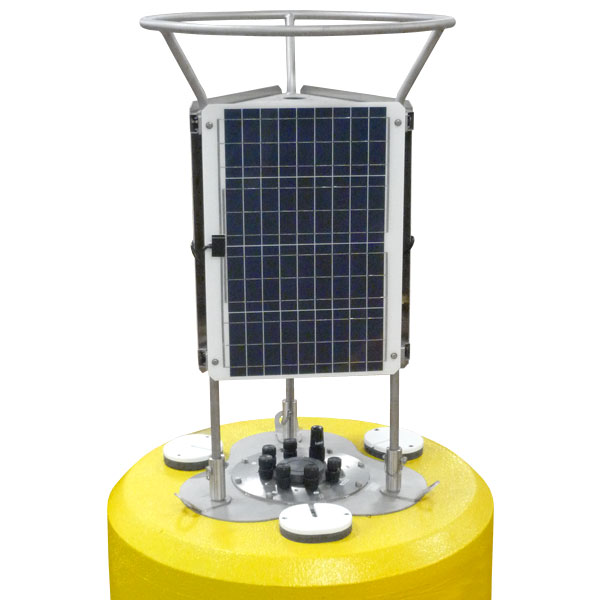 Buoy Mount Housing
The X2-CB is sealed in a watertight PVC enclosure mounted directly to the bottom of a NexSens CB-Series buoy's 316 stainless steel data well top plate. With (5) integrated sensor ports, a vent, an antenna port, and a communication/power port, the X2-CB provides ultimate flexibility and ease of access to all connections.
Tech Specs
X2-CB Data Logger
Mount: CB-Series buoy data well plate
Material: 316 stainless steel plate with PVC body
Weight: 10.5 lbs.
Dimensions: 13.5" Diameter, 4.4" Height (6" with cell/radio antenna; 8.125" with Iridium antenna)
Power Requirements: 5-24 VDC +/-10% (Reverse polarity protected)
Current Draw (Typical @ 12VDC): Low power sleep: 350uA; Logger Active: 35mA; Wi-Fi Transmitting: 43mA; Cellular Transmitting: 300mA
Peak Current: Power supply must be able to sustain a 500mA 1-second peak current (@ 12V)
Operating Temperature: -20C to 70°C
Rating: IP65
User Interface: RS-485 direct to PC software, WQData LIVE Web Datacenter, buzzer indicator
Data Logging: 256MB microSD card (expandable up to 32GB)
Data Processing: Parameter level polynomial equation adjustment; Basic & Burst Averaging (min, max, standard deviation, and raw data available)
Real Time Clock (RTC): <30sec/month drift1; Auto-sync weekly2; Internal backup battery
Log Interval: User configurable from 1 minute (10 minute default)3; Independent interval per sensor
Transmission Trigger: Time-based; Selective parameter upload option
Sensor Interfaces: SDI-12, RS-232 (3 Channels), RS485
Sensor Power: (3) 12V regulated switch channels with 1.5A capacity4,5
Built-in Sensors: Temperature (-40C to 85C, 0.1C resolution, ±0.3C accuracy); Humidity (0% to 100%, 0.1% resolution, ±4% accuracy from 5 to 95% RH & -20 to 70C); Battery voltage
Sensor Ports: (5) 8-Pin for Sensor Interface (RS-232, RS-485, SDI-12, 5V, 12V, GND)6
Power Port: (1) 6-Pin for Power and Communication (12V Solar In, Power Switch, RS-485 Host, GND)
Telemetry Options
Wi-Fi: 802.11b/g/n
Cellular: 2G: GSM 850, 900, 1800, 1900 MHz; 3G: UMTS/HSPA+ 850, 900, 1700, 1900, 2100 MHz; 4G: LTE Bands B2(1900), B4(1700), B5(850), B12(700ac), B13(700c)
Radio: 900MHz Mesh Network (902-928 MHz); 2.4GHz Mesh Network (2.4-2.483 GHz)
Iridium: Short Burst Data (SBD) 1616 MHz to 1626.5 MHz
Antenna Port: Type N female
Notes
1Assumes 25ºC operating temperature
2Requires the X2 to be connected to the internet
3Minimum log interval dependent on sensor limitations and processing time
4Cumulative concurrent current limit of all three channels is 2A
5Logger power supply must be able to support current requirements of sensors
6P0A & P0B share a single RS-232 and power channel. P1A & P1B share a single RS-232 and power channel.
Q&A
Can buoy-mounted data loggers use Wi-Fi?
The X2-CB with integrated Wi-Fi can connect to Wi-Fi hotspots with a range of up to 250 feet using the external antenna. This allows data to be pushed up to the WQData LIVE web datacenter without the added costs of cellular/satellite service fees or radio base station hardware. Given the limitations of broadcasting a Wi-Fi signal over open water, this is generally only feasible in near-shore applications (ponds, industrial sites, etc.).
Under what circumstances do X2-CB data loggers need an antenna?
All of the X2-CB data loggers include an external antenna specific to the integrated modem (Wi-Fi, cellular, satellite or radio). Each type of antenna threads to the lid of the logger using an N-Style RF connection. Antenna extension cables are available for situations where the antenna needs to mount up higher on the solar tower, which is common for radio and Iridium satellite applications.
Is it possible to change the frequency of how often data is recorded?
Changing measurement or transmit frequency can be done remotely using the WQData LIVE Web Datacenter or through direct PC connection using the UW6-USB-485P adapter and CONNECT Software.
To clean up environmental contaminants released in its waters going back to the 1960s, the San Diego Regional Water Control Board ordered dredging actions to begin in San Diego Bay in March 2012. The plan of approach was clear: A section of the bay, called the South Site, would be dredged first, and then a second phase of the work would dredge the North Site. Organizations involved in the work […]
Read More

→
Keeping an eye on the health of Lake Erie is a big job, involving a lot of agencies, organizations and monitoring equipment. The collective efforts help make the lake one of the best studied in the world, along with the other four Great Lakes. Buoy networks in Lake Erie are important to those efforts, as they help scientists around it keep tabs on measurements influencing the lake and its health. […]
Read More

→
With Lake Erie's algal bloom problem persisting in its western basin, state officials and researchers are working to expand monitoring capabilities there. Many of those are supported by networks of buoys that collect readings from advanced sensors measuring water quality. The issue of most concern is maintaining the safety of drinking water for those living near the lake. In Sandusky Bay, the problem is no different. But there is a […]
Read More

→