submersible data logger
X2-SDL Submersible Data Logger
The X2-SDL Submersible Data Logger is a rugged, self-powered data logging and telemetry system for deploying environmental sensors in or near water without fear of accidental flooding.
Rugged
The X2-SDL is designed with impact-resistant PVC, two elastomer bumpers, shock-mounted electronics and redundant seals. It can withstand extreme wave action, floods and underwater deployment to 200 ft.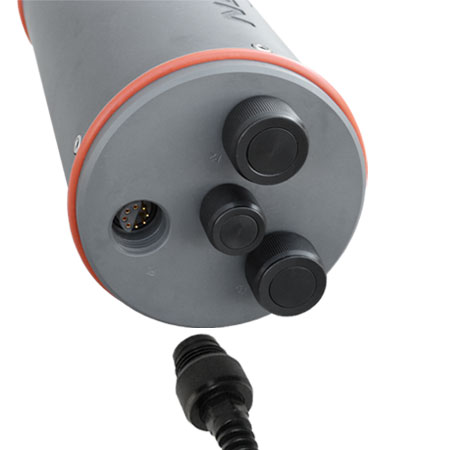 Underwater Connectors
All connections are made with a simple waterproof thread-in connector. This removes the complications and errors associated with connecting individual wires.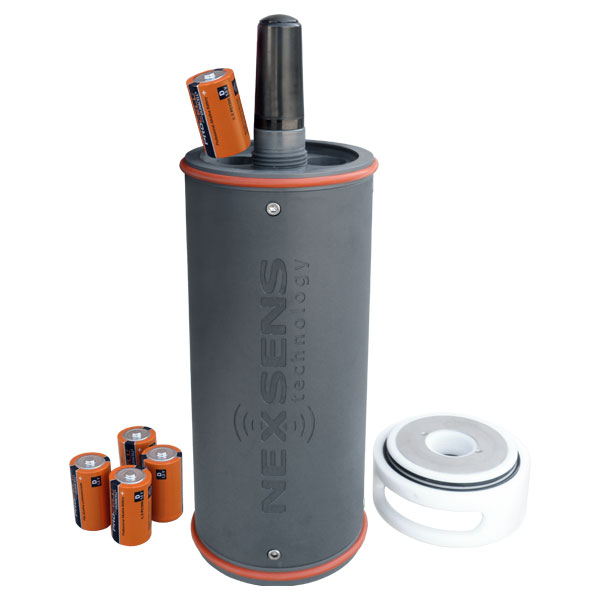 Extended Battery Life
The X2-SDL operates for months on sixteen D-cell alkaline batteries. For longer deployments, extra alkaline battery packs and solar charging options are available.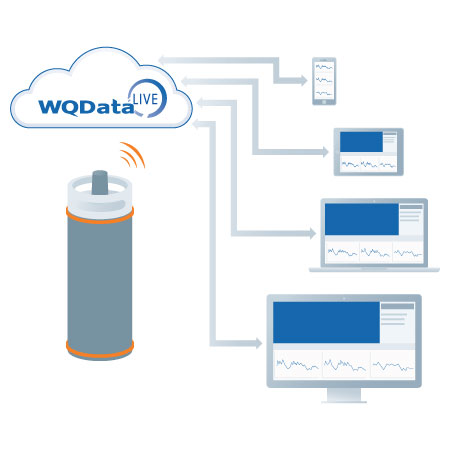 Device-to-Web
When communicating via wireless telemetry, measurement data streams directly to the WQData LIVE web datacenter.
Communication Options
Real-time telemetry options include cellular, satellite, and radio. All communication modules are securely housed within the submersible enclosure, and a waterproof antenna is integrated on the top of the device.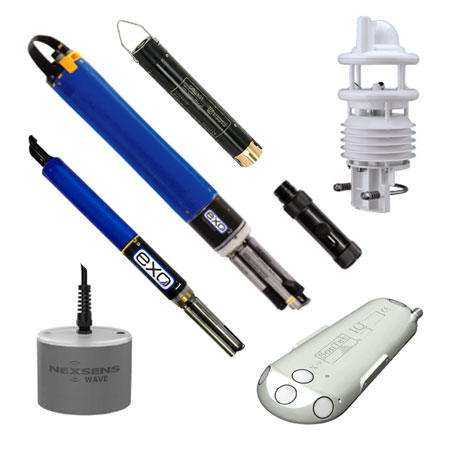 Measurement Versatility
The X2-SDL is configured with three sensor ports to interface with multi-parameter sondes, water quality sensors, temperature strings, Doppler velocity meters, water level sensors, and more. Supported sensor interfaces include SD-12, RS-485 and RS-232.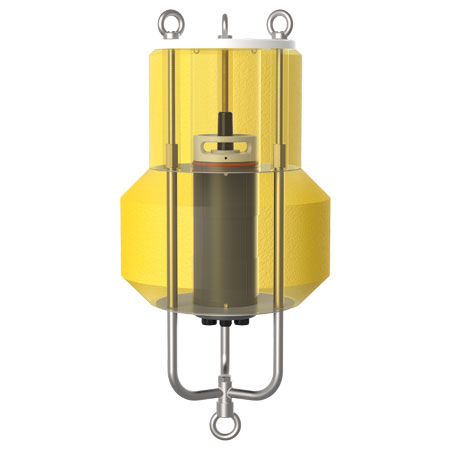 Buoy Integration
The CB-50 data buoy is designed to accommodate the NexSens X2-SDL submersible data logging system for unattended deployment in lakes, rivers, and coastal waters.
Tech Specs
X2-SDL Data Logger
Material: PVC body with Acetal battery lid
Weight: 12.0 lbs. without batteries; 16.6 lbs. with batteries
Dimensions: 5.5" (13.97 cm) diameter; 17.3" (43.94 cm) length (antenna length varies by model)
Power Requirements: 5-24 VDC +/-10% (Reverse polarity protected)
Current Draw (Typical @ 12VDC): Low power sleep: 350uA; Logger Active: 35mA; Wi-Fi Transmitting: 43mA; Cellular Transmitting: 300mA
Peak Current: Power supply must be able to sustain a 500mA 1-second peak current (@ 12V)
Operating Temperature: -20C to 70°C
Rating: Submersible to 200 ft. (requires SDL-CAP on telemetry models)
Wi-Fi Communications: 802.11b/g/n (Direct to X2 or Connect X2 to an existing network)
Wi-Fi Antenna: Internal to device
Wi-Fi Range: 250 ft. maximum1
User Interface: RS-485 direct to PC software, Wi-Fi-Enabled embedded web, WQDatalive Web Datacenter
Data Logging: 256MB microSD card (expandable up to 32GB)
Data Processing: Parameter level polynomial equation adjustment; Basic & Burst Averaging (min, max, standard deviation, and raw data available)
Real Time Clock (RTC): <30sec/month drift2; Auto-sync weekly3; Internal backup battery
Log Interval: User configurable from 1 minute (10 minute default)4; Unique interval per sensor
Transmission Trigger: Time-based, parameter threshold*; Selective parameter upload option
Sensor Interfaces: SDI-12, RS-232 (3 Channels), RS485
Sensor Power: (3) 12V regulated switch channels with 1.5A capacity5,6
Built-in Sensors: Temperature (-40C to 85C, 0.1C resolution, ±0.3C accuracy); Humidity (0% to 100%, 0.1% resolution, ±4% accuracy from 5 to 95% RH & -20 to 70C); Battery voltage
Sensor Ports: (3) 8-Pin for Sensor Interface (RS-232, RS-485, SDI-12, 5V, 12V, GND)
Power Port: (1) 6-Pin for Power and Communication (Primary/Backup Input, RS-485 Host, GND)
Telemetry Options
Cellular: 2G: GSM 850, 900, 1800, 1900 MHz; 3G: UMTS/HSPA+ 850, 900, 1700, 1900, 2100 MHz; 4G: LTE Bands B2(1900), B4(1700), B5(850), B12(700ac), B13(700c)
Radio: 900MHz Mesh Network (902-928 MHz); 2.4GHz Mesh Network (2.4-2.483 GHz)
Iridium: Short Burst Data (SBD) 1616 MHz to 1626.5 MHz
Antenna Port: Type N female
Notes
1Range varies based on many factors including obstructions, other wireless signals in the area, elevation change, and more. Actual distances may vary by location.
2Assumes 25ºC operating temperature
3Requires the X2 to be connected to the internet
4Minimum log interval dependent on sensor limitations and processing time
5Cumulative concurrent current limit of all three channels is 2A
6Logger power supply must be able to support current requirements of sensors
The Lacawac Sanctuary and Biological Field Station overseen by Miami University's Center for Aquatic and Watershed Sciences is home to lots of exciting research projects. Its namesake, Lake Lacawac, is part of the Global Lakes Ecological Observatory Network, an expansive group of scientists worldwide who study how lakes respond to environmental change. Because of that status, it makes sense that data collected at the sanctuary are used in projects near […]
Read More

→
Near the small town of Concrete, Washington, there's a dam on the Lower Baker River holding back its water. The dam is owned by Puget Sound Energy, a company that delivers electric power and natural gas to customers in the U.S. Northwest. For some time, the hydrology surrounding the dam has been of interest to engineers at the energy company who oversee its operations as part of a hydroelectric asset. […]
Read More

→
The Penobscot River is at the heart of Penobscot Indian culture. For hundreds of years, the tribe has looked on it as a source for food and medicine, as well as a means of transportation. But in recent years, algal blooms have gotten worse in the river, believed to be caused by phosphorus discharges from a paper processing plant. Not long after the plant was fined and ceased operations, the […]
Read More

→