environmental data logger
iSIC V2 Environmental Data Logger
The iSIC V2 data logger is a drop-in replacement for existing iSIC data logger networks, or it can be a powerful standalone system using external wireless modems.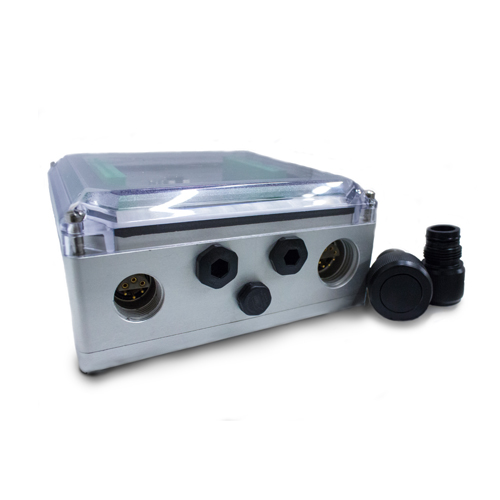 Flexible Sensor Wiring
Sensors can be cabled through Sealcon gland fittings to ensure protection from the elements. Alternatively, a simple waterproof thread-in connector is available for a plug-and-play interface with many popular instruments.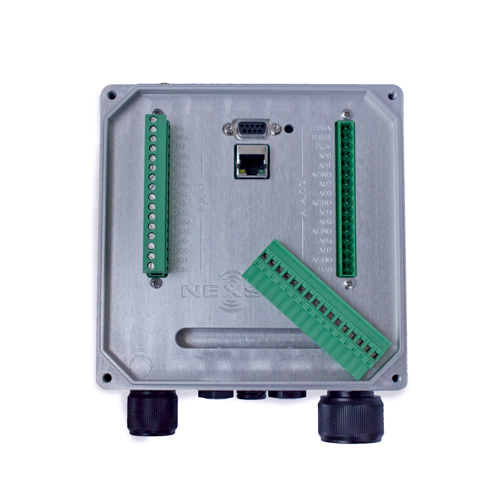 Removable Terminals
Two 16-position removable screw terminals simplify the wiring of analog and digital sensors. The anodized aluminum housing is machined with the terminal designations that won't wear off over time.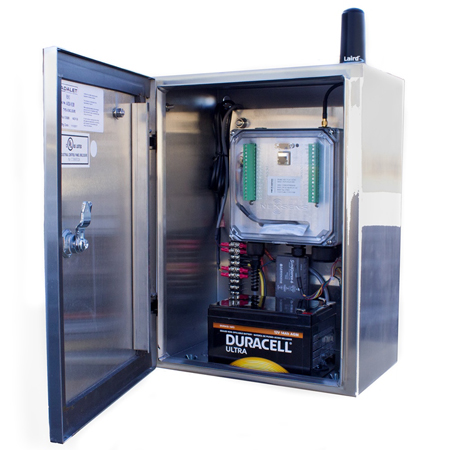 Wireless Communication
External wireless modems offer real-time remote communication using iChart Software. Supported options include Sierra Wireless cellular modems, FreeWave radios, and Quake Global Iridium satellite modems.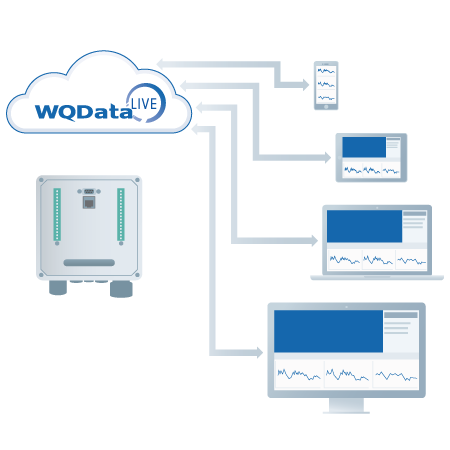 Device-to-Web
Optional WQData Live web datacenter offers instant access to data on any web browser. Data is presented on a fully-featured and easy-to-use dashboard. Features include automated reports, alarms, push notifications and much more.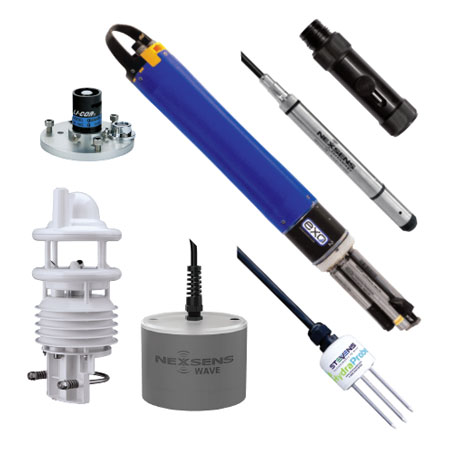 Measurement Versatility
Connect to water quality sondes, water level sensors, weather sensors, soil sensors, and more. Sensor interface options include RS-232, RS-485, SD-12, VDC, mA, and pulse count.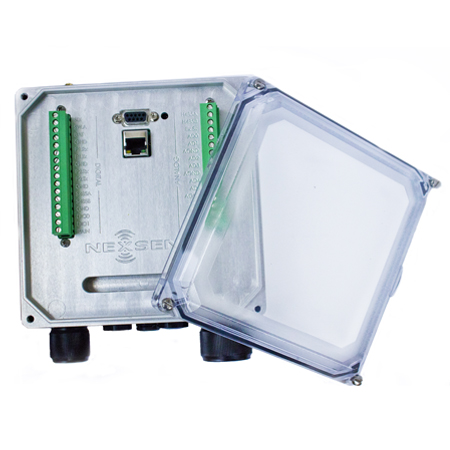 Weatherproof Housing
All electronics are housed in a rugged enclosure constructed of anodized aluminum. A clear polycarbonate plate allows the user to quickly check wiring and diagnostic lights without removing the lid.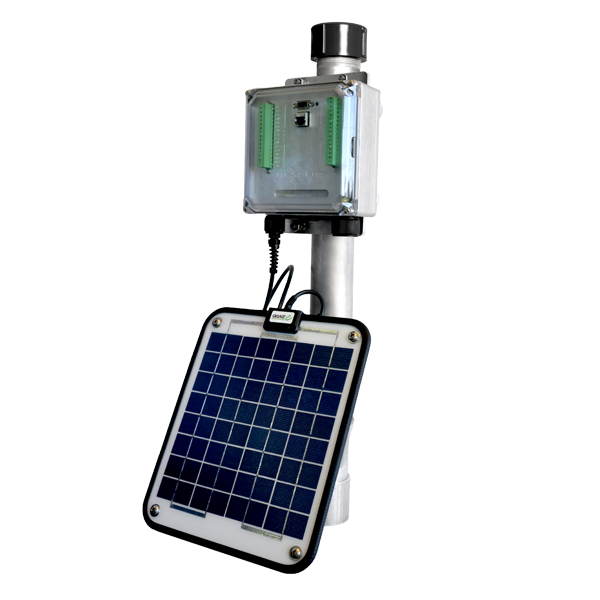 Easy Install
A specially designed mounting bracket holds the iSIC V2 to a 2" NPT pole for easy connection. The optional solar power pack also mounts to the pole and provides ample power for most applications.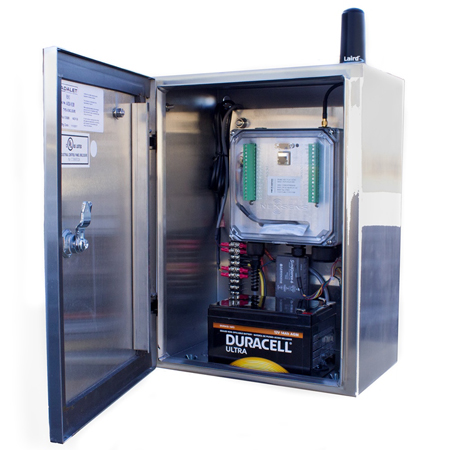 Stainless Enclosure Option
The AVSS stainless steel enclosure kit offers a secondary level of protection with integrated 14 A-Hr battery, solar regulator, external antenna, six sensor ports, and pole/wall mounting hardware.
Tech Specs
Ports: (1) UW8 for sensor connection; (1) UW6 for RS-485 host connection and external power; (2) PG-11 passthrough port for custom wiring; (2) 16 position pluggable terminal blocks for sensor, host, and power wiring; (1) DB9 RS-232 host connection; (1) RJ45 100BASE-T Ethernet; (8) 16-bit single-ended or (4) differential; ±1.25V or 0-2.5V selectable
Analog Outputs: (1) 12-bit DAC; 0-2.5V
Digital I/O Ports: (1) Tipping bucket input, max rate: 10 Hz; (2) Standard generic I/O ports 0-3.3V
Host Interface: (1) RS-485 (half duplex); (1) RS-232 (3-wire full duplex)
Host Protocols: iSIC Protocol; Terminal command interface; Modbus RTU (future)
Sensor Interface: (1) RS-485 (half duplex); (1) SDI-12; (3) RS-232
Sensor Power: (1) Switched 12VDC 1.2A; (1) 1.5A Pass through full time power; (1) 5VDC 200mA
Sensor Protocols: Modbus RTU; NMEA 0183; SDI-12; GSI (via custom script)
Log Interval: 1 minute to 24 hours; supports different intervals for different sensors concurrently
Real Time Clock (RTC): <30sec/month drift; Internal backup battery
Built-In Sensors: Temperature (-40 to 85°C, 0.1°C resolution, ±0.3°C accuracy from -20 to 85C); Humidity (0-100%, 0.1% resolution, ±4% accuracy from 5 to 95% RH & -20 to 70°C); Battery voltage; Current draw
Internal Memory: 256MB microSD card (expandable up to 32GB)
External Power: 5-16 VDC ±5% (Overcurrent and Reverse polarity protection)
Typical Current Draw (@12V): Sleep: 760uA; Active: 43mA; Analog Active: 85mA
Operating Temperature: -30 to +85°C
Physical: Dimensions: 7.5" L x 6.5" W x 2.9 H"; Weight: 4.2 lbs; Anodized aluminum housing; NEMA 4X (with lid)
Though there are many data buoys floating around Lake Michigan, many of these are deployed in nearshore areas. There are still many offshore regions where scientists lack direct data from which to draw conclusions. One of these spaces is the stretch of water between Charlevoix, Michigan and Beaver Island, a popular destination for tourists. Luckily for researchers at Central Michigan University, the Emerald Isle ferry makes several trips to the […]
Read More

→
According to the Michigan Department of Environmental Quality (DEQ), more than 4 million people rely on the Huron-to-Erie corridor for their drinking water. This corridor encompasses the St. Clair River and the Detroit River. Both of these rivers have been subjected to various contaminant spills over the years. These include substances like municipal and industrial discharges, contaminated sediments and combined sewer overflow materials. As a result, the St. Clair River […]
Read More

→
When planners sat down to put together designs for a parking lot in southeast Michigan, they intended for it to be the end of the road for cars traveling through a series of parks near Detroit. That's why the parking lot turned out so large, covering 42-acres near Lake St. Clair. But instead of serving as a prime parking area, the planners soon found that drivers had begun utilizing surrounding […]
Read More

→