In-Situ TROLL cellular data logger
G2-ISI Water Level & Quality Monitor
The NexSens G2-ISI provides live data access to In-Situ smart sensors. Included solar power pack and integral cellular system provide real-time data and notifications.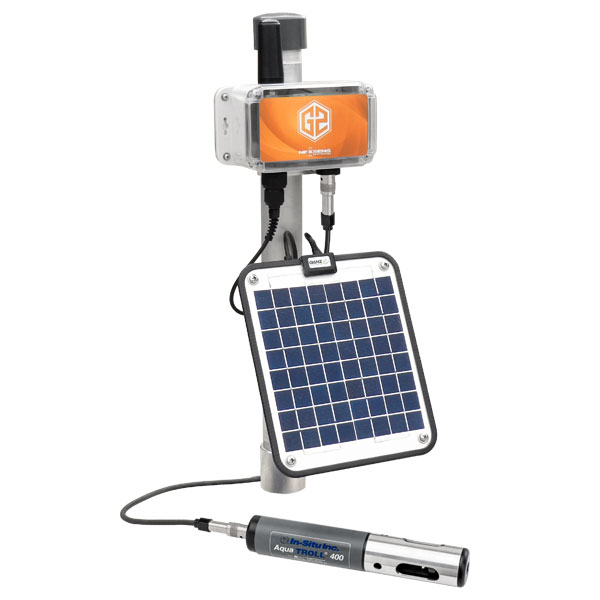 Simple Integration with In-Situ
Connect an In-Situ Level TROLL, Aqua TROLL, or RDO sensor to the G2-ISI's connector and let the system autodetect the pre-configured parameter output and begin recording. No need to manually configure the logger to record the correct data.
Real-Time Updates
An embedded cellular modem provides live, customizable water level and quality notifications on a mobile device or computer.
Fully Featured Design
The G2-ISI incorporates logger, transmitter, solar power, and online data management into a streamlined design. All equipment comes pre-mounted to a 2" NPT MAST. This simplifies setup and maintenance and allows the system to be used in a wide range of applications and environments. Simply connect the In-Situ smart sensor and the G2-ISI begins recording and transmitting data.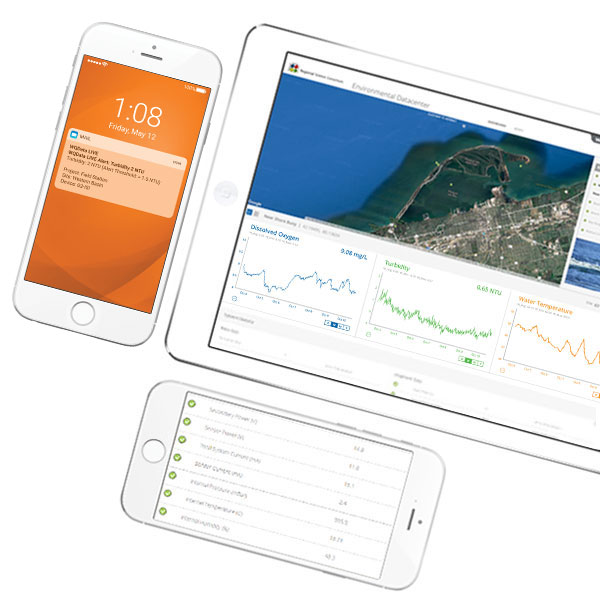 WQData LIVE Web Data Portal
View live and historic data in a simple and intuitive interface from any web-enabled device. WQData LIVE is optimized for mobile devices to provide a great experience regardless of screen size.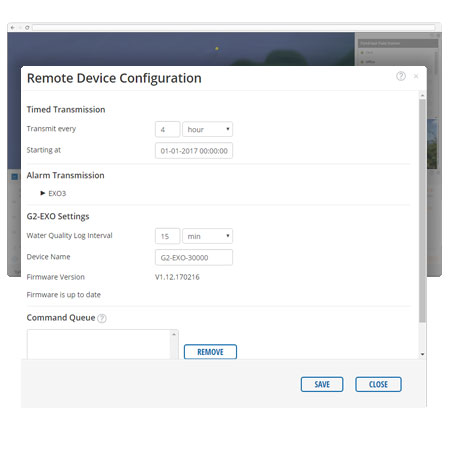 Remote Configuration
No need for a site visit to make configuration changes. Queue the commands online and the remote G2-ISI will be configured on the next transmission connection.
Tech Specs
G2-ISI Logger
Mounting: 2" NPT pipe thread (Wall/Panel mount capable)
Material: Aluminum mast, polycarbonate enclosure
Weight: 19 lbs.
Dimensions: 26" height, 9.9" width
Temperature Range: -30 to 70 °C
Rating: IP65
Memory: Over 20M data points before rollover (Over 30 years with 8 parameters and a 15 minute interval)
Sensor Connector: Twist-Lock
Power Pack: SP8 - 8W solar panel with 12V 6AHr SLA battery
Power Connector: NexSens UW-6 Receptacle
Communication: Verizon or AT&T 4G cellular modem
Transmission Trigger: Parameter threshold, time-based
User Interface: NexSens WQData LIVE web portal
Log Interval: User configurable from 1 minute (15 minute default)1
User Parameters: Parameter list dependent on configuration of attached instrument
Diagnostic Data Parameters: Input Power, Internal Temperature, Internal Humidity, Cell Signal Strength, Cell Module Power, Processor Power, Processor Current, RTC Power, Cell Module Current, Cell Status
1System power consumption and availability vary based on configuration and location. Please utilize the Power Calculator to determine application specific requirements.
Willow Island, West Virginia is a small community along the Ohio River. In 1978, it was probably best known as the location of a large, coal-burning power plant. But nowadays, the town has a future in hydropower. American Municipal Power (AMP) Ohio, an electric utility company, has been financing the construction of a new hydroelectric facility that will use the Ohio River's water to provide clean energy to the region. […]
Read More

→
Sippo Lake in Stark County, Ohio, is ideally located between two nearby cities, providing the residents of each with a peaceful place to camp, picnic or fish. The lake is also part of the Stark County Park District, which has turned the area into one full of amenities and opportunities to take in the surrounding wildlife. Some of these include waterfowl like blue herons and chorus frogs like spring peepers. […]
Read More

→
The Great Miami Wetland Mitigation Bank is the only such bank in Ohio offering stream restoration credits. It offers credits for corporations and others who want to offset the wetlands they destroy through construction by buying newly restored wetland space. But alongside that mission is another that is mapping the transport of gases as restored wetlands take shape. It is looking at the big question of whether or not newly […]
Read More

→