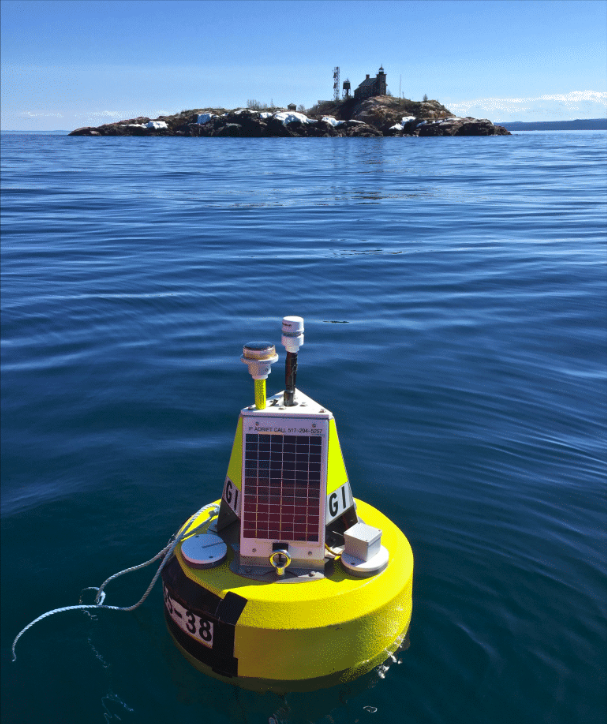 Two solitary data buoys floating off the storm-tossed Lake Superior shore near Munising and Granite Island were sudden stars in 2017. That October, they captured the largest waves ever measured on the Great Lakes—each 28.8-foot high—during a storm that claimed the lives of two people swept off rocks.
This attention-getting event shows how buoy data help managers and the public comprehend the otherwise unimaginable force of a wild Lake Superior storm that caused six figures in damage along the coast. However, these beacons provide critical wave data throughout the field season, even when the waves aren't quite so formidable.
Challenge: Eye-popping weather, punishing conditions
Sensor-based wave measurements in the Great Lakes only go back to 1979 when NOAA first began them. Before then, managers aided lake freighters in the Great Lakes with wave heights based on human observations.
Typically, these freighters cope with large 10- to 15-foot waves, says John Lenters of Lentic Environmental Services, who helps manage the buoys with Northern Michigan University and the Superior Watershed Partnership. Those days are not as threatening to public safety, because kayakers and recreational boaters usually aim to stay below two feet.
Closer to three or four feet, managers need data, because that's when it gets dangerous.
"It's those 3- to 5-foot waves where people go out and test their limits and get caught in waves that are too big for them to handle," Lenters said.
Moorings and electronics deployed in the Great Lakes don't always survive the ride. Storms had shifted a previously deployed buoy a quarter-mile from its original location.
In fact, even buoys larger than the new NexSens CB-450 had broken free from their moorings. Water could also seep into their protective cases with enough force to drain the battery and short out the system.
Solution: A small but sturdy buoy
The NexSens team helped the local collaborators meet this challenge and the pain points it presented:
a need to monitor an area of importance for recreation, business, and communities, all vulnerable to extreme weather

a difficult location that challenges equipment's ability to remain onsite and stay online 

a need to monitor increasingly unpredictable weather patterns and still be able to issue warnings in time 

a need to disseminate data and warnings online, quickly
The right solution in this situation came from a customized NexSens CB-450 Data Buoy with instruments. The buoy is equipped with an accelerometer (SVS-, as well as other sensors including an Airmar 200wx weather sensor and a T-node thermistor string.
It collects data on wave frequency, wave height, and other conditions. The data are transmitted and posted in near real-time for sharing and analysis—and to warn the public as needed.
Benefits: Staying the course despite record-breaking conditions for new insights
Throughout the year the buoys almost completely stayed put. Only the Munising buoy shut down—and that was shortly after measuring the 28.8-foot wave.
Lenters notes that an even larger wave group could have moved through, either before or after the buoy went quiet. The gap in the data after the shutdown and the 28.8-foot record may not reflect the biggest wave from this storm.
"It was about a 30-foot wave group moving across the lake and it happened to just slam right in between those two buoys," Lenters said. "From models, we estimate there were higher waves. It got me thinking: clearly, this isn't the biggest wave ever on the Great Lakes," Lenters said. "It's just the biggest ever measured."
Result: A protective watch and warning, whatever comes
NOAA began tracking wave heights with buoys five years after the Edmund Fitzgerald, a freighter, sank. That night, the captain of a nearby freighter reported 30-to-35-foot waves.
Meanwhile, NOAA created a simulation of wave heights based on that storm's weather conditions alone. That model estimated waves averaging 25 feet, with only one in a hundred waves climbing to 36 feet. There was more to the wave height story and missing data.
Part of the explanation is that NOAA buoys are near the centerline of each lake, which sees the largest waves less than the nearshore areas, comparatively; because it isn't subject to as much fetch. Also, NOAA has now raised its cutoff of 25 feet for its wave height records to 50 feet.
The true height of the tallest wave on the Great Lakes is a mystery, but there's no question that weather on Lake Superior last October broke some records. Still, no matter how many extreme weather events occur, the team is more confident that they are ready.
"When I think about two major wave events in the same week combined with high water levels, I would say a million-to-one that that's probably unprecedented in the historical record," Lenters said, meaning that "it probably hasn't happened in a couple hundred years."
The bottom line
Reliable, high-quality data in real-time keeps the public safe on the water. It also ensures commerce can proceed on the water.
NexSens wave and weather monitoring equipment is custom-built for your project after your team decides exactly what you need. We can help you create a bespoke solution for your environmental monitoring challenge. Reach out for assistance and feedback on how to collect your data today.
Equipment