Pond Aquaculture Monitoring
Pond aquaculture is one of the major sources of fish produced for human consumption worldwide. While pond design and species cultivated varies widely, all operations depend on maintaining healthy water quality. Pond aquaculture monitoring systems can help to ensure optimal conditions for production, avoid excess resource consumption and environmental pollution, and alert for any rapid changes in conditions.
Pond Aquaculture
Humans have been practicing pond aquaculture in various forms for several millennia. With origins attributed to ancient China, it is also known to have existed in ancient Egypt and in Europe during the Roman period. Breeding methods and pond technology have developed throughout history, but water quality has always been an important factor.
Overfishing, pollution and habitat destruction has reduced the supply of wild-caught fish and placed an increased demand on aquaculture globally.
According to the UN Food and Agriculture Organization, aquaculture accounted for 49% of global fish/seafood production in 2020, up from just 13% in 1990.
Although cold-blooded and adaptable to fluctuations, each fish species thrives (and therefore maximizes production) within a specific temperature range.
Since fish breathe by intaking dissolved oxygen (DO), maintaining healthy DO levels also contributes to optimized production.
Fish excrete ammonia, which in its un-ionized form (NH3) is extremely toxic and can reach dangerous levels due to fish density or poor circulation.
Most cultured fish species require pH levels between 6.5 and 9.0; furthermore, high pH and temperature promote un-ionized ammonia formation.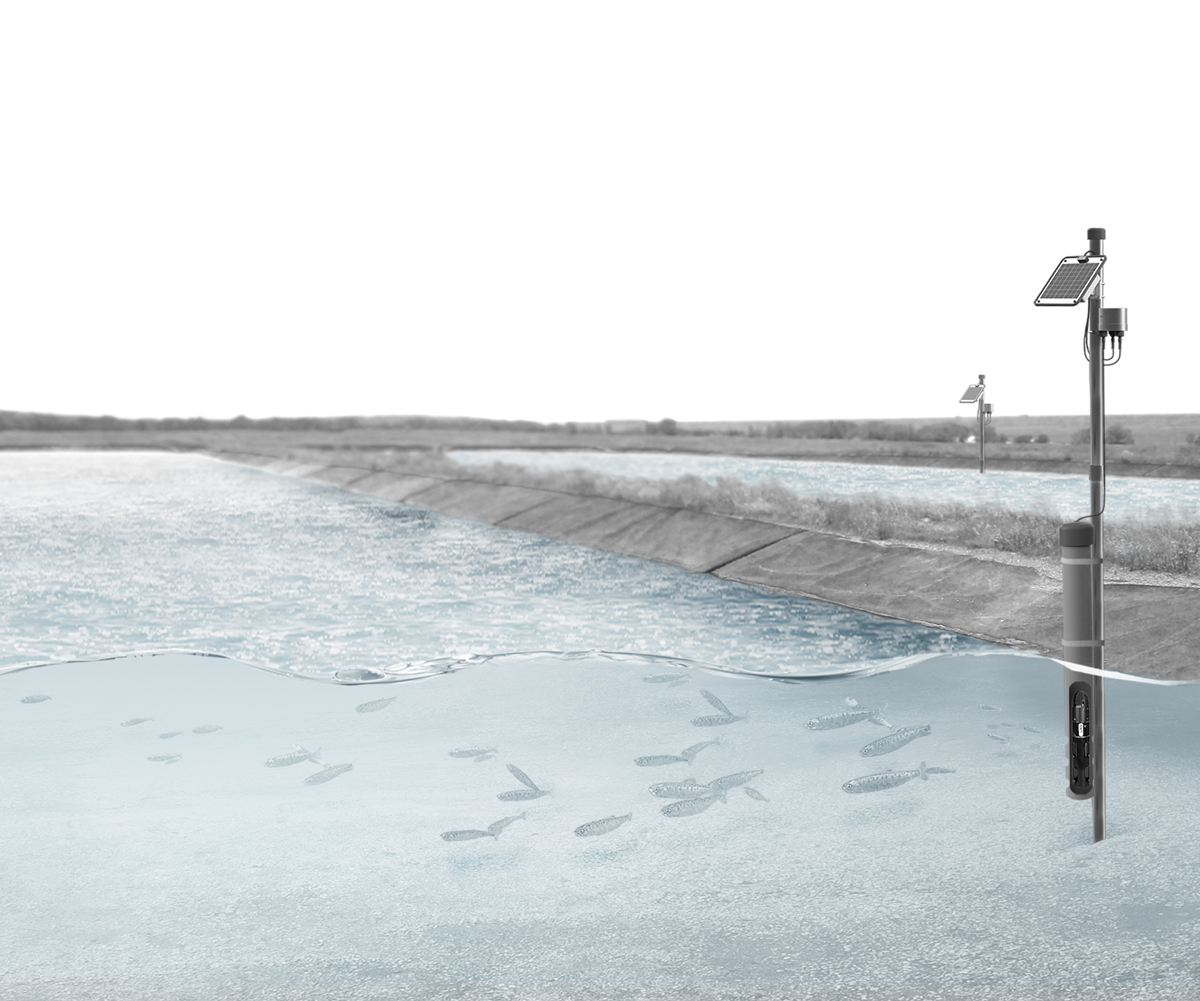 ---
Typical Pond Aquaculture Monitoring System
Maintaining healthy water quality is essential in any pond aquaculture operation, and especially in non-drainable ponds where water is not circulated. Pond aquaculture monitoring systems can have a threefold effect of helping to minimize inputs (and therefore costs), optimize fish production, and reduce contamination and pollution that may escape pond facilities.
A typical system consists of a mast-mount X2 environmental data logger with wireless communications for transmitting real-time data. The system can be powered from an AC power supply or independently with an SP-Series solar power pack.
The X2 is compatible with a wide range of sensor types including most industry-standard water quality sensors. Multiparameter water quality sondes including those from YSI, Hydrolab, Eureka, In-situ and others incorporate several sensors into a single instrument housing. An instrument such as the YSI EXO3s can deliver most of the important water quality parameters in a relatively cost-effective package.
Systems transmit data wirelessly to the WQData LIVE web datacenter for data management and remote logger controls. WQData LIVE offers a rich feature set for viewing, manipulating, reporting and exporting data. Quick Alerts and Alarms can be configured to provide notice immediately when out of range measurements are registered.
In cases where other measurements are of interest, the X2 is compatible with weather stations, water level sensors, flow meters and many other sensor types. Multiple sensor ports facilitate simultaneous connection of several sensors directly or via profiling strings. Buoy-based deployments are also possible for placement of instruments at any location in a pond.
Contact a NexSens Applications Engineer today to discuss your pond aquaculture monitoring application.

Visit the Fondriest Learning Center to learn more about the fundamentals of environmental measurements.