Emergency Response

Buoy

Construction projects, dredging operations and emergency response situations call for a platform that can monitor water quality at a moment's notice, while alerting project managers of exceedances and potential concerns.

The CB-50 is easily deployable by one person and can decrease response times when it matters most. Once the system hits the water, data can be managed and interpreted from the WQData LIVE cloud-based datacenter.

Hover over component, click for details.
Case Studies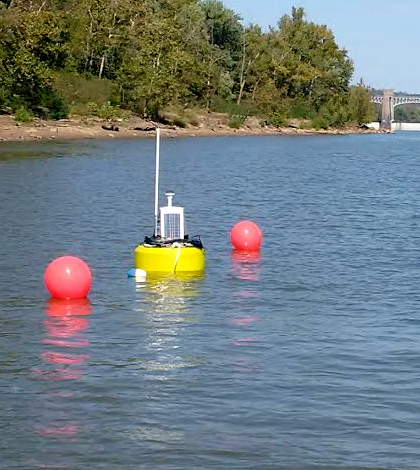 A complex series of locks and dams up and down the Ohio River enable interstate commerce, travel, and recreation. But maintaining a usable pathway for watercraft comes at a cost. The inevitable byproducts of disrupting the river's natural systems are a threat to local wildlife. To combat this, the US Army Corps of Engineers (USACE) uses complex monitoring and response technology designed to minimize the negative impacts of dredging on the river ecosystem.
Read More

→
The City of Toledo had been working for some time with LimnoTech, a water engineering firm based in Ann Arbor, Michigan, to design and deploy a monitoring platform for tracking conditions near the city's water intake on Lake Erie. But after the Toledo water crisis of 2014, which saw half a million people deprived of water for consumption and bathing because of high levels of algae-produced toxins, the city put the project on the fast track.
Read More

→
New Bedford Harbor is fed by the Acushnet River from the north and drains into the Atlantic Ocean to the south. Its steady flow is one of the reasons so many industrial plants set up shop along the harbor in the early 1900s. Back in those days, no one knew about polychlorinated biphenyls, or PCBs, and their effects on the environment. So, along with utilizing the harbor's water to operate their machinery, plants also used it as a destination for PCB-laden discharges that still affect the area today.
Read More

→