Coastal monitoring buoy
CB-950 Data Buoy
The CB-950 offers sufficient power and sensor payload for demanding instruments including video cameras, ADCPs and more.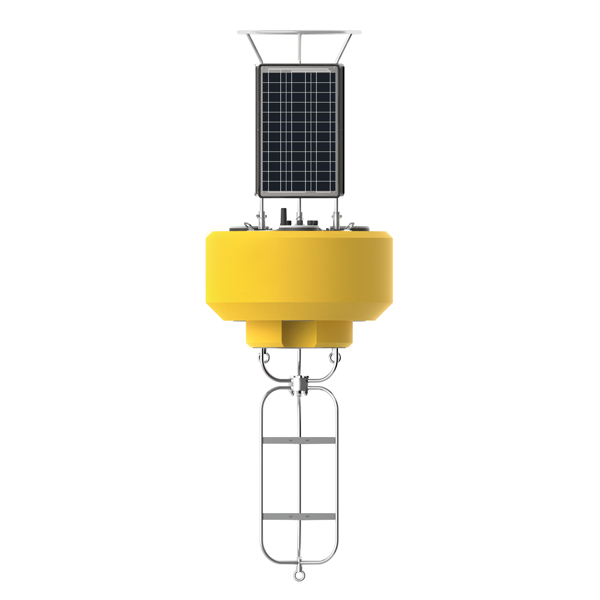 Powerful
The platform integrates three 46-watt solar panels on the tower with space for up to three 28 A-Hr batteries in the data well.
Tower
The stainless steel tower includes a top mounting plate for solar marine lights and radar reflectors. Mounts are also available for weather sensors, video cameras and other topside instruments.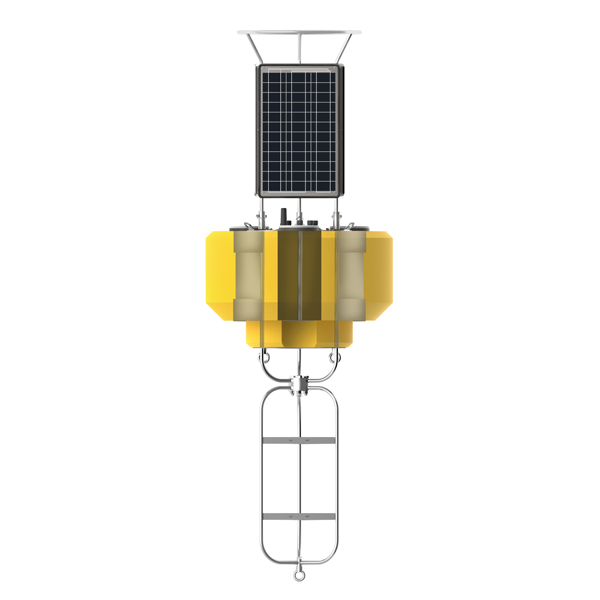 Data Well
A 10-inch diameter by 26-inch tall data well provides a watertight housing for batteries, data loggers, sensors, and other hardware.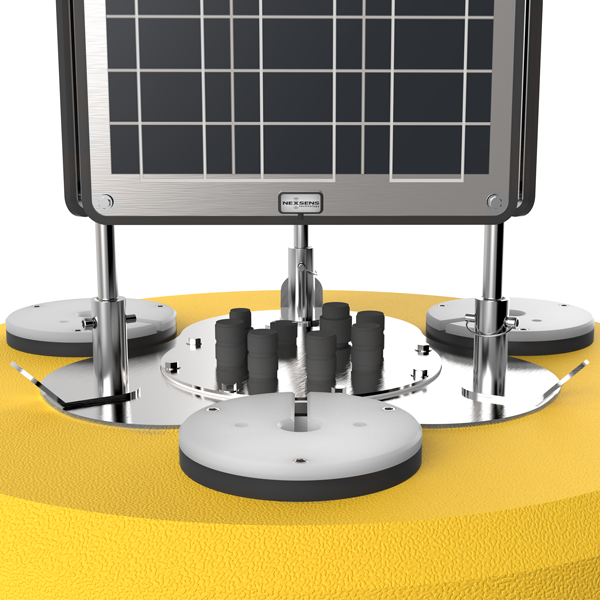 Connections
The data well lid provides pass-through connections for sensors, power, venting, and more. When integrated with the optional NexSens X2-CB data logger, the system is truly plug-and-play.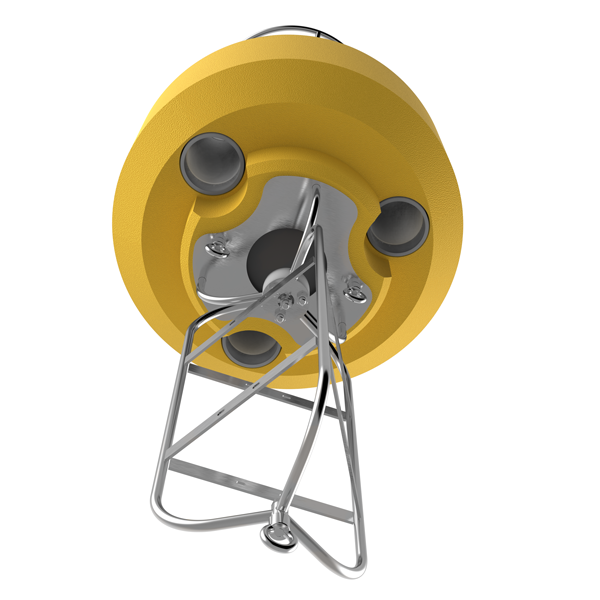 Top-to-Bottom Ports
Three 6-inch pass-through ports allow for sensors to be mounted underwater while securely routing the cable. Instrument deployment pipes and custom sensor mounts attach to 6-inch NPT bottom threads.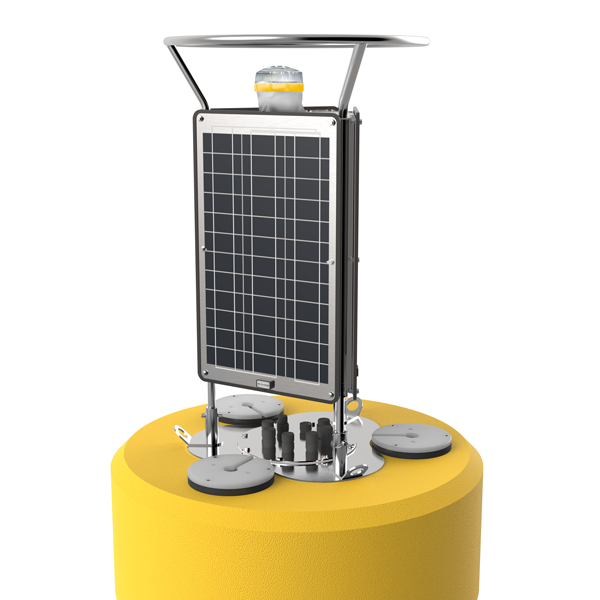 Solar Beacon
The optional solar marine light has a one to four nautical mile range and securely mounts to the buoy top plate for maximum visibility.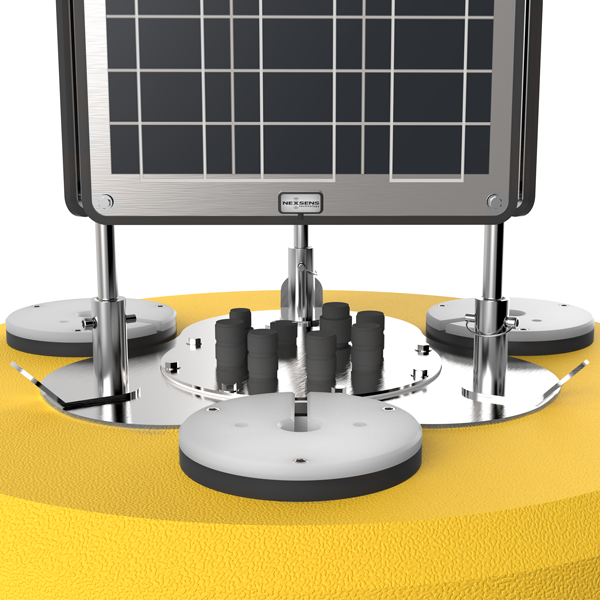 Data Logging
The X2-CB data logger replaces the standard pass-through data well lid for turnkey systems. Alternatively, 3rd party data loggers can be integrated by the user inside the data well.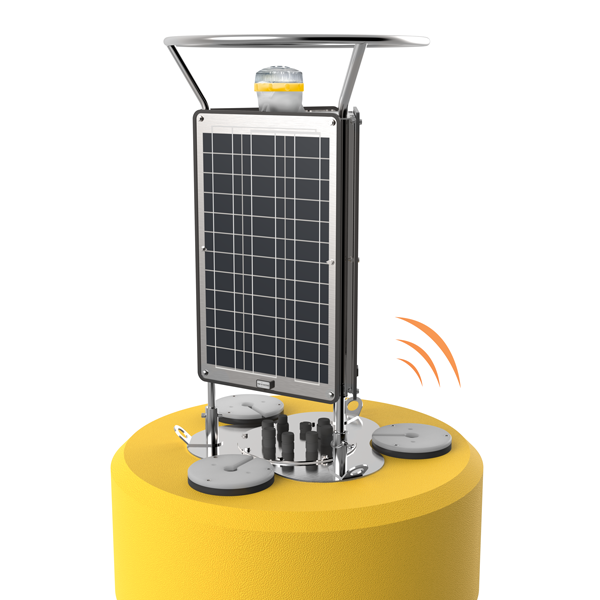 Wireless Communications
Communication options using the X2-CB data logger include Wi-Fi, radio-to-shore, cellular, and Iridium satellite.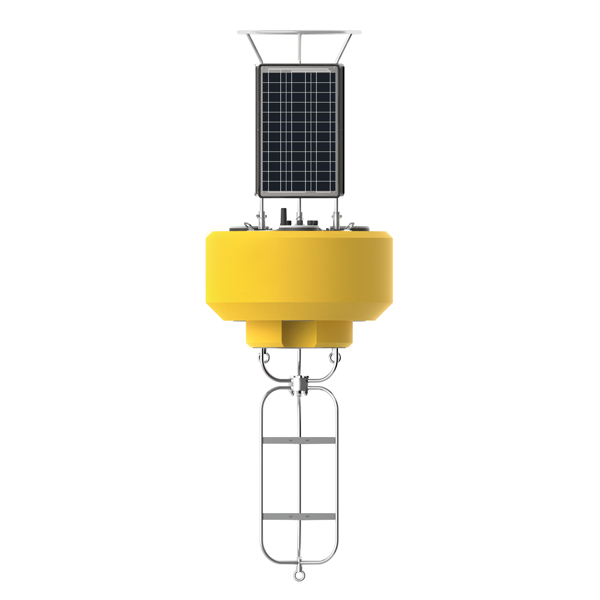 Built to Last
Constructed of cross-linked polyethylene foam with a heavy polymer skin and an indestructible stainless steel frame, the CB-950 is designed for years of service.
Tech Specs
Hull Outer Diameter: 42.0" (106.7cm)
Hull Height: 26.0" (66.0cm)
Data Well Inner Diameter: 10.3" (26.2cm)
Data Well Height: 25.5" (64.8cm)
Pass-Through Hole Diameter: 6.0" (15.2cm)
Tower Height: 41.0" (104.1cm)
Solar Panels: 3x 46-watts
Weight: 285 lb (129kg)
Net Buoyancy: 950 lb (431kg)
Hull Material: Cross-linked polyethylene foam with polyurea coating & stainless steel deck
Hardware Material: 316 stainless steel
Mooring Attachments: 3x 3/4" eyenuts
Q&A
How are water quality sondes mounted to moorings?
When measuring near the surface, water quality sondes can be housed inside a slotted deployment pipe that is threaded directly to the bottom instrument well on the buoy hull. This allows instrument access for periodic cleaning and calibration without having to pull the buoy out of the water.
If the project requires measurements at depth or at multiple depths, NexSens offers instrument clamps and mooring cages for mooring lines, as well as bottom platforms when sondes need to be bottom referenced instead of surface referenced.
How do I connect sensor cables to the data buoy?
For customer integrations, cables can be run through one of six ports on the passthrough data well lid and secured with a supplied cable gland. The backside of the cable gland should be filled with epoxy or sealant to prevent water ingress. Alternatively, NexSens can supply a waterproof bulkhead connector with mating pigtail for splicing with user-supplied sensor cables. This allows for a quick disconnect of the cable at the lid.
When using an X2-CB or X2-CBMC data logger on a NexSens integrated system, all supplied sensor cables are terminated with mating UW plug connectors or MCIL-8-FS connectors.
How do I mount a Doppler current profiler to the data buoy?
The mounting for an acoustic Doppler current profiler (ADCP) is instrument-dependent. NexSens offers several ADCP mounts for Nortek instruments, including the Aquadopp and Signature Series ADCPs. The mounts must be designed in such a way that the acoustic beams are unobstructed by the buoy and mooring. Custom mounts are also available based on project-specific needs. Contact info@nexsen.com for more details.
Corals around the world are under threat. The buoys of the Coral Reef Early Warning System (CREWS) help face that threat, providing the entire world with weather patterns and data about climate change from their home in the Caribbean Sea. Since June 2018, a new, state-of-the-art oceanographic buoy has added ocean state and weather data in near real-time to the CREWS system—all accessible from a computer or smartphone. A better […]
Read More

→
In 2010, a design for the Liberty Island Restoration Project was completed and implemented, creating open water channels, emergent tidal marsh lands and floodplain habitats to sustain water fluctuations. The work was done in an effort to help wildlife living in the California Delta as well as fish species including delta smelt and Chinook salmon. But beyond just putting new marshes in place, it was important for those working on […]
Read More

→
Recent studies into global climate change have identified an increase in Arctic warming rates. These are linked to increased trends toward more sea ice loss that are leading many to anticipate the Arctic will become a more popular shipping route. Coinciding with this expected expansion in use, agencies in the U.S., including the National Oceanic and Atmospheric Administration, are preparing for more operations in the Arctic. For NOAA, that means […]
Read More

→