rain and flood alert system

G2-RAIN Alert System
The NexSens G2-RAIN Alert System incorporates a precision rain gauge with cellular data communication and real-time notifications. Streamline Design
Integrated mount and up to 4 year battery life make setup and deployment easy. Simply screw the G2-RAIN onto a 2" NPT threaded MAST.
Real-Time Updates
An embedded cellular modem provides live, customizable rainfall notifications on a mobile device or computer. Integrated Syphon with Debris Filter
Syphoned rain gauges provide more accurate measurements by regulating the water flow for rainfall rates up to 27" (700mm) per hour. A built in filter prevents debris from clogging the entry.
WQData LIVE Web Data Portal
View live and historic data in a simple and intuitive interface from any web enabled device. WQData LIVE is optimized for mobile devices to provide a great experience regardless of screen size.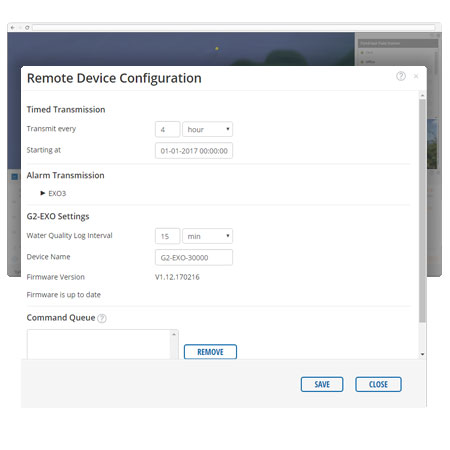 Remote Configuration
No need for a site visit to make configuration changes. Queue the commands online and the remote rain gauge will be configured on the next transmission connection.
Tech Specs
G2-RAIN-RTU
RTU Mount: 2" NPT pipe thread
Rain Gauge Mount: Mounting flange (Compatible with Rickly 3510, HyQuest TB3/4/6)
Material: Aluminum body with white powder coat finish
Weight: 6.5 lbs.
Dimensions: 5.4" Diameter, 4" Height
Temperature Range: -30 to 70 °C
Rating: IP65
Memory: Over 1.5M data records before rollover (Over 85 years with a 30 minute interval)
Battery: (2) D-Cell lithium (Thionyl Chloride)
Battery Life: 1 to 3 years (temperature dependent)
Tipping Bucket Input Connector: 2 pin screw terminal
Sensor Input Signal: Contact closure (100mS minimum)
Communication: Verizon or AT&T 4G cellular modem
Transmission Trigger: Interval rain rate, time-based
User Interface: NexSens WQData LIVE web portal
Rain Interval: User configurable from 5 minutes to 24 hours (30 minute default)
User Parameters: Interval Rain, Rain Intensity, Total Rain (Calculated)
Meta Data Parameters: Tip Counter
Diagnostic Data Parameters: Input Power, Internal Temperature, Internal Humidity, Cell Signal Strength, Cell Module Power, Processor Power, Processor Current, RTC Power, Cell Module Current, Cell Status
Tipping Bucket Rain Gauge (Included with G2-RAIN)
Weight: 9 lbs.
Dimensions: 8" Diameter, 14.5" Height
Receiver: Machined aluminum 8" rim
Sensitivity: One tip per 0.01" rain
Measuring Range: 0 to 27 in/hr
Measuring Intensity Accuracy:
+/-2% @ 0 to 10 in/hr
+/-3% @ 10 to 20 in/hr
+/-5% @ 20 to 27 in/hr
Siphon: 0.016" (12ml) capacity brass & non-hydroscopic polymer with leaf/insect screen filter
Temperature: 0 to 70 °C
In an effort to catch and hold floodwaters in the Plum Creek watershed in Lockhart, Texas, a system of lakes, ponds, and spillways was built beginning in the 1950s. The system allows water to be released at a controlled rate, minimizing damage from heavy rains. The Plum Creek Conservation District monitors, maintains, and improves this system to ensure it works properly, maintaining 28 flood control structures and managing underground water […]
Read More

→
Located in southwest Ohio, the Edge of Appalachia is the largest privately owned nature preserve in Ohio and provides critical habitat for rare species of plants and animals. Ohio Brush Creek, a tributary of the Ohio River, runs through the preserve and is home to several species of endangered freshwater mussels. To document long-term trends in water quality and rainfall on the preserve, a monitoring system was installed that allows […]
Read More

→
In order to improve water quality and protect drinking water, researchers at the St. Joseph River Watershed in Indiana are working to identify best management practices that will reduce soil erosion and the amount of nutrients and chemicals in surface water runoff. The research area includes a variety of crop and soil types that undergo different agricultural and water management practices. Characterizing water quality in runoff from different site conditions […]
Read More

→