G2-EXO Water Quality Monitor
The NexSens G2-EXO provides live data access to a YSI EXO multi-parameter sonde. Included solar power pack and integral cellular system provide real-time data and notifications.
Simple Integration with YSI EXO
Connect a YSI EXO sonde to the G2-EXO's impulse connector and let the system autodetect the pre-configured parameter output and begin recording. No need to manually configure the logger to record the correct data. Note that EXO1 and EXO2 sondes that do not support direct SDI-12 require the -DCP version of the G2-EXO.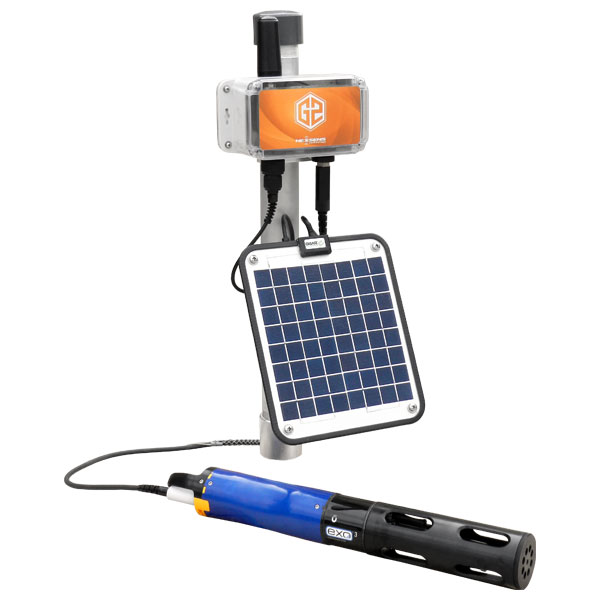 Real-Time Updates
An embedded cellular modem provides live, customizable water quality notifications on a mobile device or computer.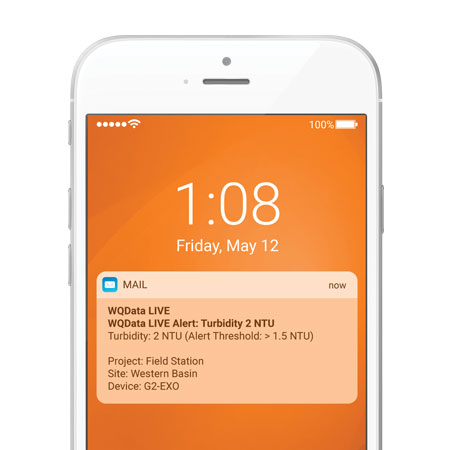 Fully Featured Design
The G2-EXO incorporates logger, transmitter, solar power, and online data management into a streamlined design. All equipment comes pre-mounted to a 2" NPT MAST. This simplifies setup and maintenance and allows the system to be used in a wide range of applications and environments. Simply connect the EXO sonde and the G2-EXO begins recording and transmitting data.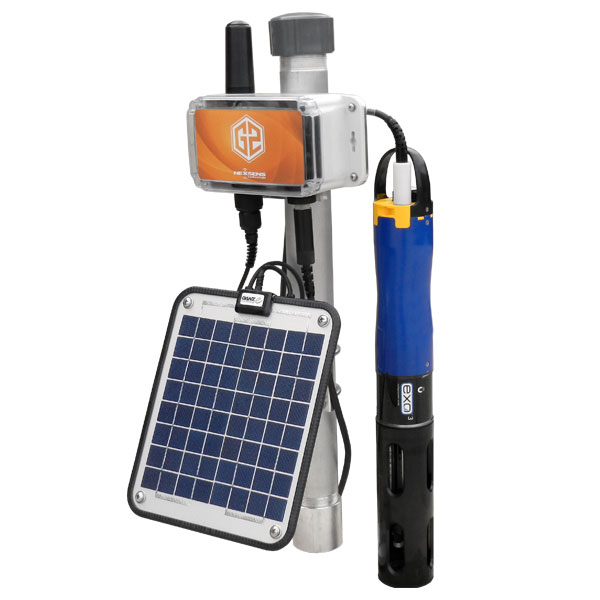 WQData LIVE Web Data Portal
View live and historic data in a simple and intuitive interface from any web-enabled device. WQData LIVE is optimized for mobile devices to provide a great experience regardless of screen size.
Remote Configuration
No need for a site visit to make configuration changes. Queue the commands online and the remote G2-EXO will be configured on the next transmission connection.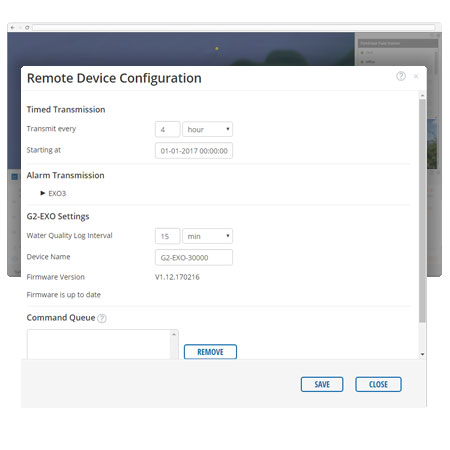 Accessories
| Image | Part# | Product Description | Quote |
| --- | --- | --- | --- |
| | VZ-25MB-M | Verizon cellular data service with 25 MB monthly allowance, priced per month | |
| | VZ-25MB-Y | Verizon cellular data service with 25 MB monthly allowance, priced per year | |
| | 599503-00 | EXO3 multi-parameter water quality sonde with 4 sensor ports & 1 wiper port, no depth sensor | |
| | 599503-01 | EXO3 multi-parameter water quality sonde with 4 sensor ports & 1 wiper port, 10m depth sensor | |
| | 599503-02 | EXO3 multi-parameter water quality sonde with 4 sensor ports & 1 wiper port, 100m depth sensor | |
| | 599503-03 | EXO3 multi-parameter water quality sonde with 4 sensor ports & 1 wiper port, 250m depth sensor | |
| | 599827 | EXO wiped conductivity & temperature sensor | |
| | 577602 | EXO unguarded pH sensor | |
| | 577612 | EXO unguarded pH/ORP sensor | |
| | 599100-01 | EXO optical dissolved oxygen sensor | |
| | 599101-01 | EXO turbidity sensor | |
| | 599102-01 | EXO freshwater total algae sensor (chlorophyll & phycocyanin) | |
| | 599103-01 | EXO saltwater total algae sensor (chlorophyll & phycoerythrin) | |
| | 599104-01 | EXO fDOM sensor | |
| | 599090-01 | EXO central wiper | |
| | 599040-4 | EXO field cable, 4m | |
| | 599040-10 | EXO field cable, 10m | |
| | 599040-15 | EXO field cable, 15m | |
| | 599040-33 | EXO field cable, 33m | |