 Water quality data buoy Lagoon monitoring buoy
CB-40 Data Buoy
The CB-40 offers a compact and affordable platform for deploying water quality sondes and other instruments that integrate power and data logging.
Compact
With an overall 14-inch diameter by 48-inch height, the CB-40 can be deployed quickly and easily from a small boat. Fully configured systems typically weigh around 45 lbs. Topside Plate
A stainless steel topside plate supports solar marine lights and offers a convenient lifting point via (3) eyenuts.
Center Hole
The center hole offers instrument access and includes space for additional instrumentation, battery packs, or other waterproof electronics.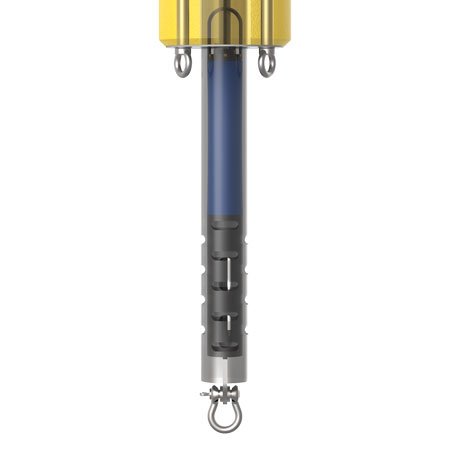 Multi-Vendor Compatibility
Compatible instruments include YSI 6-Series & EXO sondes, Hydrolab Series 5 & HL sondes, Eureka Manta sondes, and In-Situ Aqua TROLL instruments.
Instrument Pipe
A 4-inch stainless steel instrument pipe securely houses the sonde or water quality instrument and includes slotted holes for water flow.
Solar Beacon
The optional solar marine light has a one to three nautical mile range and securely mounts to the buoy top plate for maximum visibility. Built to Last
Constructed of cross-linked polyethylene foam with a heavy polymer skin and an indestructible stainless steel frame, the CB-40 is designed for years of service.
Tech Specs
Hull Dimensions: 14" (35.56cm) outside diameter; 20" (50.80cm) tall
Instrument Pipe Dimensions: 3.87" (9.83cm) inside diameter; 48" (121.92cm) tall
Weight: 38 lbs. (no payload); 45 lbs. (with sonde & solar marine light)
Buoyancy: 40 lbs.
Hull Material: Cross-linked polyethylene foam with polyurea coating & stainless steel deck
Hardware Material: 304 stainless steel
Mooring Attachments: 1, 2, or 3 point
For some time, sockeye salmon weren't able to reach Oregon's Suttle Lake due to barriers along the Deschutes and Metolius Rivers that kept them out. But thanks to recent remediation efforts, the lake has recently been seeing more sockeye migrating from the Pacific Ocean to spawn. That would be no problem if the lake had a healthy food web, but there is evidence that salmon native to Suttle Lake, kokanee […]
Read More

→
Kazakhstan is a country not often associated with having a shoreline, let alone a marine environment. However, in the western corner of Kazakhstan lies a section of coastline along the Caspian Sea. Through a network of rivers and channels, the Caspian Sea is actually connected to the trade routes of the world's oceans. To support the expanding oil fields of Western Kazakhstan, a deep-water port is being constructed in the […]
Read More

→
A small campus pond on the New Paltz branch of the State University of New York has a big effect on water quality downstream. Called "The Gunk" by students and staff because of its position near the Shawangunk Mountains, the pond flows directly through the Wallkill River, a tributary of the mighty Hudson River that crosses all of eastern New York. Though The Gunk isn't a very big pond, researchers and […]
Read More

→