Photo Credit: David J. Ruck - Great Lakes Outreach Media

Photo Credit: David J. Ruck - Great Lakes Outreach Media
CB-25-SVS Wave Buoy
The CB-25-SVS Wave Buoy offers the latest in real-time wave observations in a compact, affordable, and easy to deploy platform with flexible communications and optional expansion with additional sensors.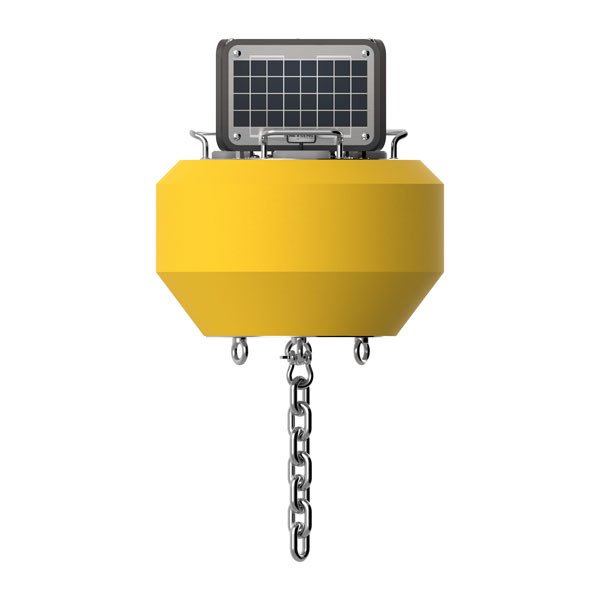 Compact
With 18" (46 cm) hull diameter and less than 30 lb. (13.6kg) weight, the CB-25-SVS can measure waves in drifting, tethering or mooring applications.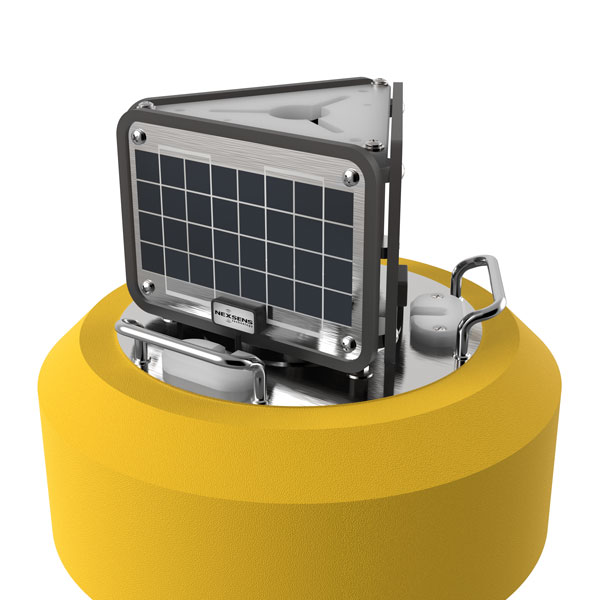 Self-Powered
Three integrated 4-watt solar panels are evenly spaced around the buoy to capture sunlight from any direction and charge the internal buoy battery.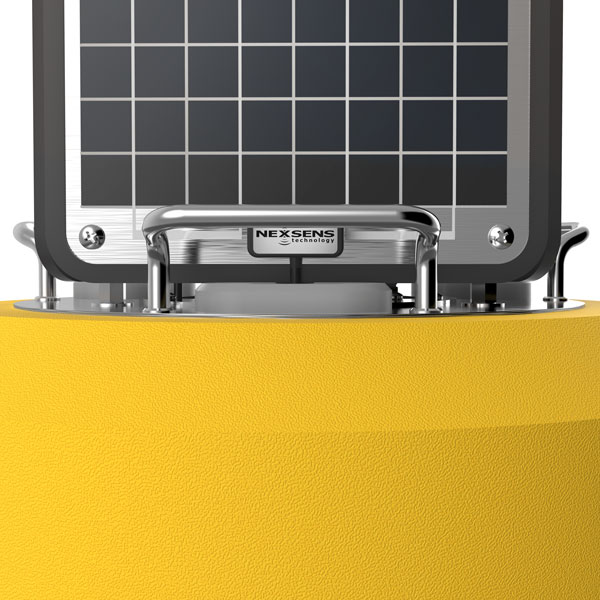 Integrated Wave Sensor
Wave height, period and direction are measured with the industry-leading SeaView Systems SVS-603HRi inertial wave sensor built directly into the waterproof buoy electronics. Data Logging
The CB-25-SVS data buoy includes the X2-SVS wave data logger with integrated power supply, wet-mate marine connectors and optional wireless telemetry.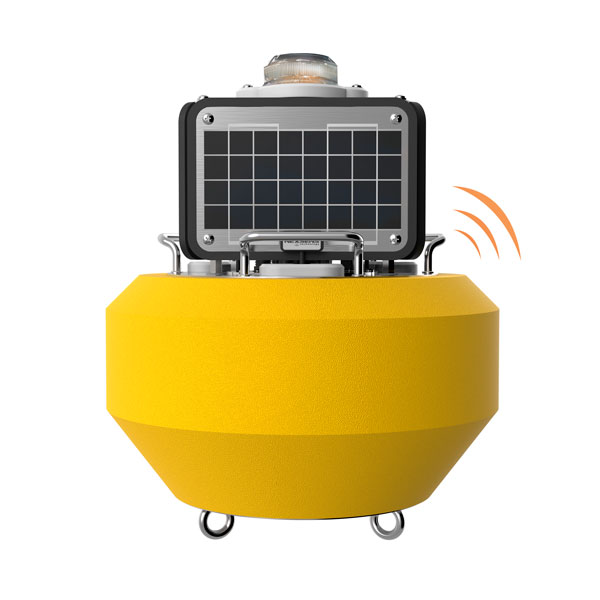 Wireless Communications
The X2-SVS wave data logger is available with 4G cellular or Iridium satellite communications. An integrated antenna mounts securely beneath the solar top.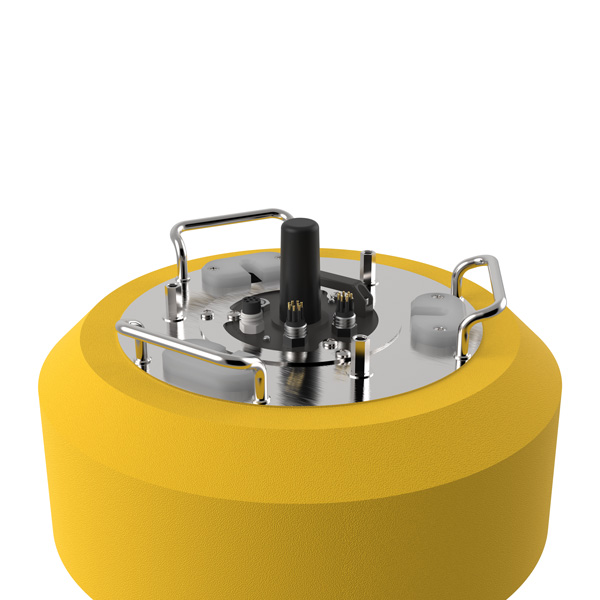 System Expansion
Auxiliary sensor ports with wet-mate connectors on the X2-SVS wave data logger allow for optional expansion with GPS receivers, meteorological stations, water quality sondes and other sensor types.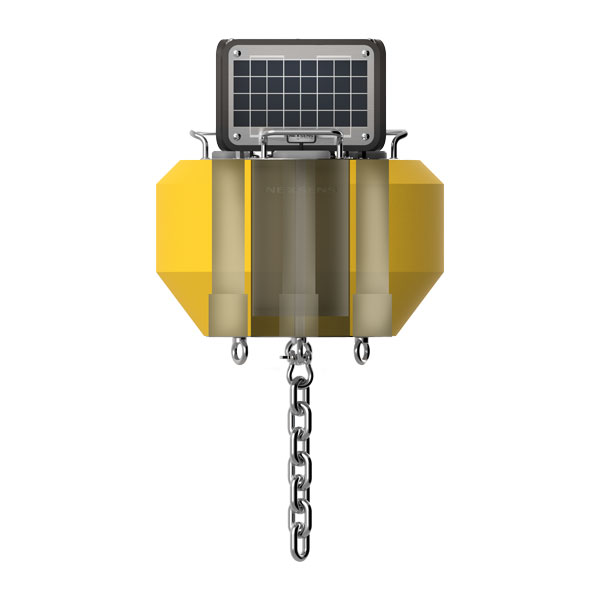 Top-to-Bottom Ports
Three 2-inch pass-through ports allow for sensors to be mounted underwater while securely routing the cable. Instrument deployment pipes and custom sensor mounts attach to 2-inch NPT bottom threads.
Mooring Connections
Three eye nuts on the bottom frame provide mooring points for tethering and mooring applications. The included stainless steel chain provides ballast weight, or a mini cage can be connected.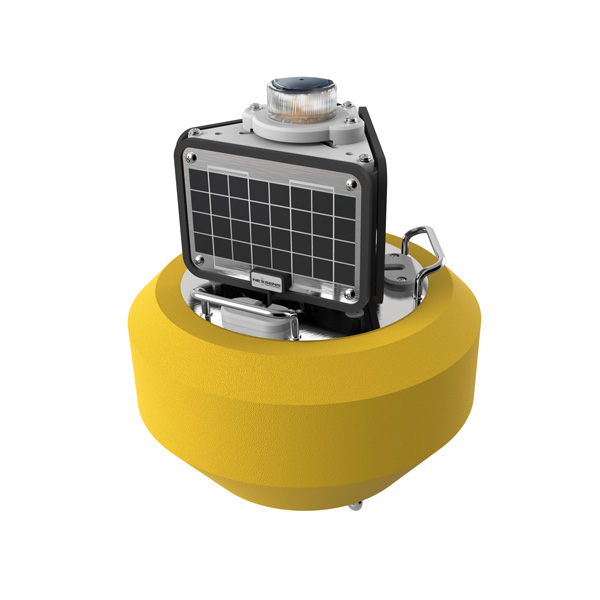 Solar Beacon
The optional solar marine light has a one to three nautical mile range and securely mounts to the buoy top plate for maximum visibility.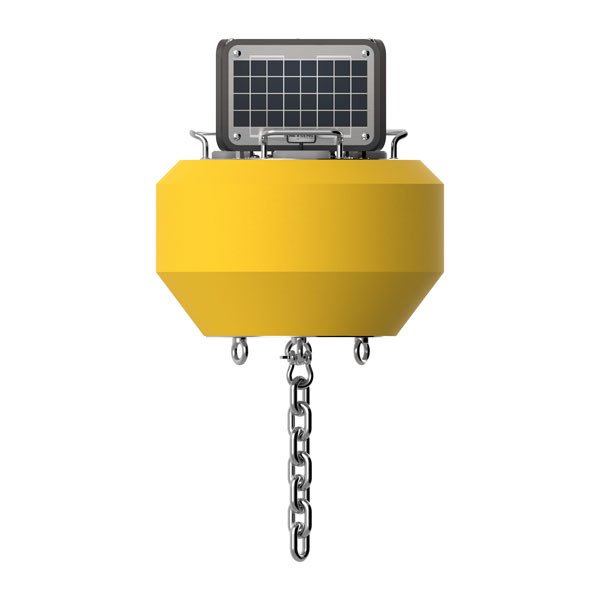 Built to Last
Constructed of cross-linked polyethylene foam with a heavy polymer skin and an indestructible stainless steel frame, the CB-25-SVS is designed for years of service.
Tech Specs
Wave Sensor: SeaView Systems SVS-603HRi
Available Wave Parameters: Significant wave height, dominant period, wave direction, mean wave direction and more
Range: Wave Height: 0.2-20m; Wave Period: 1.5-20 seconds; Wave Direction: 0-360°
Resolution: Wave Height: 0.001m; Wave Period: 0.001 seconds; Wave Direction: 0.001°
Accuracy: Wave Height: +/- 0.5cm; Wave Period: <1%; Wave Direction: +/-2°
Diagnostic Sensors: Internal temperature (-40C to 85C, 0.1C resolution, ±0.3C accuracy); Humidity (0% to 100%, 0.1% resolution, ±4% accuracy from 5 to 95% RH & -20 to 70C); Battery voltage
Optional Water Sensors: Surface temperature, single-parameter sensors, multi-parameter sondes
Optional Atmospheric Sensors: Single and multi-parameter weather sensors
Optional Position Sensor: Marine GNSS receiver or standalone asset tracking device
Sensor Interfaces: SDI-12, RS-232 (3 channels), RS-485
Sensor Ports: (2) External sensor ports, expandable using splitters
Battery: 12 VDC sealed lead acid (SLA) battery, 6.0 A-Hr
Solar Power: (3) 4-watt 12 VDC solar panels
Serial Interface: Direct RS-485 via USB adapter (for setup)
Wi-Fi Interface: 802.11b/g/n (for setup)
Cellular: 4G: LTE Bands B2(1900), B4(1700), B5(850), B12(700ac), B13(700c)
Iridium Satellite: Short Burst Data (SBD) 1616 MHz to 1626.5 MHz
Cloud Datacenter:  WQData LIVE web portal with auto data export to NDBC, GLOS, and others (configurable on web portal)
Data Logging: 256MB microSD card (expandable up to 32GB)
Hull Dimensions: 18" (45.72cm) outside diameter; 11" (27.94cm) tall
Tower Dimensions: 8" (20.32cm) tall, triangular
Center Hole Dimension: 5.5" (13.97cm) inside diameter
Weight: 30 lbs. (13.61 kg)
Net Buoyancy: 25 lbs. (11.34 kg)
Hull Material: Cross-linked polyethylene foam with polyurea coating & stainless steel deck
Hardware Material: 316 stainless steel
Mooring Attachments: (4) 3/8" eye nuts
Operating Temperature: -20C to 70°C
Warranty: 12 months. See terms at nexsens.com/support/warranty
Place of Manufacture: Ohio & Michigan, USA
Field Verification: Tested and verified by LimnoTech, Ann Arbor, MI
Two solitary data buoys floating off the storm-tossed Lake Superior shore near Munising and Granite Island were sudden stars in 2017. That October, they captured the largest waves ever measured on the Great Lakes—each 28.8-foot high—during a storm that claimed the lives of two people swept off rocks. This attention-getting event shows how buoy data help managers and the public comprehend the otherwise unimaginable force of a wild Lake Superior […]
Read More

→
For more than 100 years, the Stannard Rock Lighthouse has kept a watchful guard over Lake Superior. But now, a new weather buoy is joining the watch in a remote part of Lake Superior, providing much-needed weather data to local mariners, the National Weather Service (NWS), and researchers. Scientists from the Superior Watershed Partnership (SWP), Lentic Environmental Services (LES), and the University of Colorado-Boulder deployed the buoy on the lake […]
Read More

→
Not far from Oslo, Norway, a massive effort is underway to expand a public beachfront. The work is taking place along an area of Oslofjord called Kadettangen, a small peninsula that juts out into the bay. Once the work is finished, public officials expect that the new beach area, along with other enhancements planned for the peninsula like bike paths and volleyball courts, will help attract visitors from near and […]
Read More

→